Maggie Bromage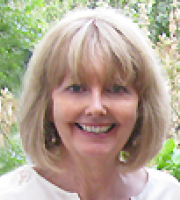 Email Me
Contact Details
Practice location
Aylesbury
Buckinghamshire
HP17
United Kingdom
Telephone Number
01844 761062
Mobile Number
07854 583728
About Me
I work with people with a very wide range of issues including depression, anxiety related conditions, stress and overload, panic attacks, phobias, PTSD, low self-esteem and lack of confidence. I also work with people who want to change their relationship with food and those who wish to give up or cut down on their smoking, drinking or other addictive behaviours.
I have recently moved from London to a village near to Princes Risborough and Aylesbury.  In London I had practices in Canary Wharf and Shoreditch.  I work with a wide age range from young teenagers upwards and see individuals as well as couples with relationship issues.
The current pandemic has brought with it increasing feelings of fear, anxiety, depression and isolation: everything from the loss of a family member or friend to not being able to be with others, or to have the freedom to go about freely, along with pessimistic messages for young people of opportunities lost and lives ruined. For those in caring roles some have reported that they feel they have not done enough or failed in what they have been trained to do. 
Having a sense of control, feeling secure, being part of the wider community and having status through work or in other roles are among the essential human needs as identified by Human Givens. No wonder many people are not feeling great right now.
Despite all that is going on at the moment, whatever your circumstances and situation talking to someone will help. 
During Covid restrictions I am providing zoom sessions. 
Comments from clients:
"You've made a huge difference in my life."
- Client with complex anxieties and relationship difficulties.
"We have certainly noticed a difference and this intense week of exams has not been too bad. He says he feels more in control and more free! So a great result I think. Thank you very much."
- Mother of a teenage son after a serious accident (after one session)
"Thank you for your support, Maggie – you helped at a very deep level. By recognising the ways in which I was getting in my own way, and giving me tools to address the specific obstacles I created for myself, you helped me over a difficult time and enabled me to move forward into an unknown and precarious future with confidence and hope."
- Client with low self-esteem and fear of failure.
Qualifications
BSc (Psychology), HG Dip.P., MBPsS
Professional Memberships
MHGI
Graduate Member of the British Psychological Society (MBPsS)
Senior Associate Member of the Royal Society of Medicine
Registered hypnotherapist with the General Hypnotherapy Register (GHR)
Aylesbury
Buckinghamshire
HP17
United Kingdom