How we set up a human givens therapy centre
Gail Rhodes and Jenny Waddington describe their experience of establishing a small business to spread availability of the human givens approach.
---
AS we write these words, we are sitting in our lovely, light, airy centre in a vibrant shopping parade in York, still excited about the trajectory our lives have taken in the past two years. Establishing the York Human Givens Wellbeing Centre has been an interesting learning curve for us both and we are so glad we took the plunge. We are not saying that the way we did it is the way to do it but, if our experience can help or inspire anyone else, we will be pleased indeed.
We already knew the advantages of working alongside other human givens therapists. One of us, Gail, had worked with several human givens therapists at the first York Human Givens Centre, set up by trailblazer Rita Leaman, until it closed a few years ago. Gail then rented a room in a complementary therapies clinic in York, where Jenny joined her a while later. Two other human givens therapists soon joined us and, although each of us operated individually, it was enjoyable working closely and having regular contact with one another, including setting up meetings sometimes to discuss our work.
Although this arrangement worked well, we found we shared a strong desire to re-establish a human givens centre in York, one that would give us more freedom and flexibility and also have a real human givens identity. We wanted a comfortable and professional environment, which we could arrange entirely to suit our needs, rather than having to fit in with a variety of other therapies. (For instance, at the clinic where we had been working, one of the services offered was scans for pregnant women and that didn't sit easily with us, when we might be seeing clients distressed by infertility or still-birth.) But we also didn't want to take on something too demanding. We needed a centre that would be manageable in size and easy to run, given our personal and other professional commitments, which required us to work elsewhere at times.
We decided that, if we could interest two or three other human givens therapists in making a commitment to rent space from us, and enjoy the advantages of working as part of a team with a shared philosophy, then we two would take on the lease, along with any financial risk. So, with the eventual support of three other human givens therapists, we started looking around for premises in the centre of York.
As we had no particular deadline, we could go about this in quite a relaxed way. We decided at the outset more or less what our rental budget would be (a total amount that could be divided comfortably among five therapists but which wouldn't break the bank if those renting gave notice to quit) and started scanning estate agents' advertisements. Looking around at a large variety of premises that all turned out to be unsuitable in one way or another (for instance, the location might feel wrong; too much work needed doing to the premises; there weren't enough therapy rooms; the rooms were pokey, and so on) really helped us to start visualising exactly what it was that we did want. The lack of pressure made this part of the process a lot of fun.
We found the right place by accident one weekend. Bishopthorpe Road (or 'Bishyroad', as this lively neighbourhood is affectionately known) is just outside the city walls of York but not far from the railway station; whilst busy, it has a real community feel to it, with an old fashioned grocery, hardware store, gift shops and florists, as well as cafés and a couple of restaurants. We had had a coffee there one day and agreed wistfully that it would be a wonderful setting for us. Then Jenny spotted a To Let sign.
The space on offer seemed ideal: a door on the main street led upstairs to two therapy rooms, a small office area, a small kitchen area and a lovely, light and airy waiting room, which had four skylights, as well as windows, and could be closed off to double as an extra therapy room when required. The premises were in excellent condition, which meant that we would be able to move in straight away and not have to worry about extra work and expense to get the place in order. There were also two designated parking spaces outside – really important to us! Meanwhile, clients would have the option of parking in the nearby shoppers' car park for just 20p an hour. The only downside was the lack of disability access but we decided we could overcome this by offering home visits to those who couldn't manage the stairs. And so we told the landlord we would like to go ahead.
Alas, however, the landlord wanted us to commit to a minimum of five years on the lease and was pushing us to sign up for ten. Neither of us was a seasoned negotiator, and we were advised by more business-minded friends to ask a solicitor to look over the lease, as even a simple lease can be difficult to make head or tail of, because of the legal jargon. So we did this, despite the expense. And then we surprised ourselves by driving a hard bargain, holding firm even when the landlord seemed to be brushing us off, eventually managing to negotiate a three-year lease rather than the five years that he had originally insisted was absolutely non-negotiable. That really boosted our confidence in our embryonic business skills.
The landlord wasn't prepared to wait too long for us to sign the lease, and we also had to give three months' notice on our current rental agreements, so we had to budget for a short overlap – paying for both old and new rooms for one month. During that month, we were busy seeing clients at the old centre and getting our new one ready to open its doors.
Getting ready
We had only to do the most minor of patching up and painting – the décor already being a restful combination of beiges and creams. We were also very fortunate that, between us, we owned a certain amount of second-hand office furniture and, in addition, Rita Leaman very kindly passed on some extremely useful items from the former York Human Givens Centre. These included a fridge and microwave, chairs and a bookshelf unit, which were all a great help to us. We then worked out (with some assistance from a friendly spreadsheet enthusiast) what else we needed/wanted and what we could each afford to put in to enable us to equip the centre and have enough left in the account as a buffer to cover other incidentals. The most expensive items we bought were two brown leather sofas for the waiting room and four comfortable chairs, two for each therapy room. (Ikea was great for this.) We also bought several attractive lamps, more bookcases and interesting pictures for the walls. As the kitchen area opened onto the waiting area, we decided to acquire some lovely, simple screens to separate the two. Our final more sizeable expense was the replacement of the carpet on the stairs that led up from the street door to the centre, as it was somewhat shabby and stained. Our landlord was so pleased with what we had done, saying he had never seen the premises look nicer, that he replaced the ugly strip lighting in one of the therapy rooms with some more suitable spotlights, free of charge.
Money matters
We decided not to form a company, as we were advised that it was simpler, at least at this stage, to continue operating as separate sole traders, so we just set up a bank account for the centre, into which we all paid our rent and out of which we paid centre outgoings. Nothing more complicated was required and this has worked well. There were no tax implications, as we were not expecting to make a profit from the renting of the premises – just hoping, at that stage, that the centre would manage to break even – and so our individual tax returns would cover the finances. However, as the centre is growing and is now more than covering its costs, we will this year engage the services of a book keeper, to make sure that everything is in order and that we are aware of any tax implications.
Crucially, before we signed the lease, we had verbally secured one-year commitments from the three other human givens therapists who had agreed to rent space from us. We divided the time/space available into full-day and half-day slots, which included early mornings and/or evenings, if wanted. Each therapist who rents space has a room available for a half or a full day (or two) each week. Our charges are in line with the current 'going' rates for renting therapy rooms in York – the half-day rate being over half the full-day price, to encourage full-day rental. Every therapist who signs a contract with us gets his or her own set of keys.
Practicalities
Before we started operating, we drew up a basic letting agreement for our colleagues (based on the sensible, workable agreement we had signed at our previous premises); it stipulated the monthly rental (which we would all pay), a three-month notice period and other obligations, such as the requirement to be insured, be a member of the Human Givens Institute, keep proper client records, agree not to advertise the centre without consent, and so on. We ourselves are responsible for the upkeep and security of the premises and we also have to pay for insurance against any accidents/injuries etc that could occur there. We knew that we would be able to manage easily with five of us, but also that, if anyone had to leave and we had a gap before someone new could join us, we would still be okay, based on the average number of clients that the two of us were seeing.
By the time we moved into our new premises, we had organised a phone line and internet connection (one of the more stressful and time consuming tasks) and we agreed that, in the absence of a receptionist, our phone would be set up to take messages only (rather than ring and disturb people) and would be advertised as such. We check messages throughout the day (barring weekends), whenever we pass the office, and manage between us the general enquiries which come in this way or via our website. We phone prospective clients back to find out their needs and then distribute them as fairly as possible among all of us. (We keep a logbook to show transparency.) Of course, clients who want to contact us or the other therapists individually tend to call our personal mobiles.
We also researched card machines before moving in and decided that this was definitely a facility worth having. Although there is a monthly fee of approximately £30 for the card machine rental plus a cost for its use, the more it is used, the lower the cost becomes for each of us. Opting for this facility turned out to be a good decision, as probably around 75 per cent of our clients pay by card and it makes life a lot easier for us. Administering it takes a couple of hours a month and involves working out payments due to the individual therapists after deducting their personal card-use cost and transferring their fees from the centre's account into their private accounts.
We employed a local tradesman to make us a weather-proof vinyl printed sign for the street door. This was cheap and has been adequate, although we are looking forward to upgrading the sign to something slighter grander soon!
Although there was obviously a little stress involved in getting everything done whilst continuing to see clients elsewhere to earn a living, we were genuinely pleased with how relatively painless it was to set things up. It certainly helped that there were two of us working together, that we genuinely liked and respected each other (if one of us felt enormously strongly about something, the other usually deferred), and that we were able to have some fun in the process.
Getting known
We started working from the centre in September 2010 and had a small official opening when the co-founders of the human givens approach, Joe Griffin and Ivan Tyrrell, were in York teaching the Human Givens Diploma. They attended, along with some of the trainee therapists. We also held a small open day to which we invited local shopkeepers and businesses, as well as going round to introduce ourselves and distributing a few leaflets – we had had these printed locally, with all five of us undertaking to share the cost, and it has been worth it. We always keep about 10 leaflets in a plastic holder in a recessed area outside our front door (not more, in case pranksters hurl them about – although this has never actually happened) and we know that they have led to appointments being made. We decided not to put all our photos on the leaflet, in case anyone left. Instead, on the leaflet, we referred people to our website, if they wanted to know about us individually, and left a space where each therapist could stamp their own contact details.
Soon after moving in, we got going on creating a website, as we felt that this would be the most effective way of providing ongoing marketing for ourselves. A small local company, which had been recommended to us, designed the basic template with our input. We provided the text that we wanted and they then set up a content management system for us, which they showed us how to use (the skills are not difficult to learn) so that we could make changes and updates and add new information ourselves. Jenny undertakes to do this for us, at the moment. The cost for the website, including this system, was approximately £1,000 and, although we know we could have had a website for less, we opted for the flexibility this system gave us and for the expected saving of money long term, as we wouldn't have to pay every time we wanted something altered. The more you do on your website using a content management system, the better value it becomes.
Running the centre
Whilst, as with any business, there are obviously ongoing responsibilities associated with running the centre, we have not found these too onerous and the task is certainly made easier by being able to share the load. The main administrative responsibilities, aside from the card machine payments, are making sure the water, gas, electricity, telephone and rent are paid, made painless, in most cases, by direct debit. We discovered that we were entitled to small-business relief on our council tax, which reduced the bill by half – welcome, indeed.
As we don't employ a receptionist, each therapist is responsible for managing their own clients' arrivals and departures. We are also all responsible for finding our own clients, although our profiles on the website assist us with this. We have made it a condition that all the therapists at the centre use outcome measures in their work and advertise this on our leaflets and website as a means of assuring clients that we place value on tracking their progress and evaluating our own efficacy. We personally feel that this is a crucial aspect of being effective as a therapist.
We don't employ a cleaner either, so we take the responsibility for keeping things clean and tidy, dividing between the two of us important basic tasks such as cleaning, vacuuming, changing kitchen towels, providing toilet rolls and so on. We haven't had to arrange this formally – somehow it just gets done, often in gaps between clients and at weekends. We ask our therapists to be tidy but they are not responsible for cleaning. However, we are such a close team that they tend to help.
Wider services
Recently, the two of us invested in a good-quality video camera, and we now offer a package for those wishing to film clients for the demonstration therapy session that is a requirement for passing Part 3 of the Human Givens Diploma. This was a challenging technical learning curve for us but we have now successfully filmed quite a number of sessions and transfer the films onto DVD as part of the service too. As Gail is a qualified and experienced human givens supervisor, we are also able to offer the supervision element of the Part 3 process.
We host the York Human Givens Peer Group meetings regularly, too. The centre is a great place for our colleagues across the region to meet and we even have someone who comes from as far as Hartlepool to our whole-day Saturday gatherings.
Getting clients
Other than maintaining the website and keeping leaflets in place outside the centre's front door, we haven't found it necessary to do any extra advertising or marketing for the centre as yet. We do, however, have a Twitter account, and Gail regularly tweets human givens information, useful resources, and helpful wise sayings to our followers, of whom we have over 1000. We will be focusing on further marketing ideas for the centre this year, such as contributing a couple of articles to local publications.
We have also brought ourselves to local attention by giving several talks on topics related to the human givens, both at the centre and elsewhere (and we intend to do more in the future). One was on addiction and another turned into an evening workshop at the centre for female 'empty nesters', whose needs had ceased to be met once their families had moved on. The idea came to us as we had both coincidentally seen a number of clients in this situation. We called the workshop, which we charged for, "Live the life you love" and gave out plenty of advice, as well as handouts and a relaxation CD for every person attending. It was a great success and led to more self-referrals.
Something else that goes down well is our special offers, such as 15 per cent off stop-smoking therapy sessions booked in a particular month or, at a time when many people are planning summer holidays abroad, discounted sessions to help anyone with a fear of flying. As time goes on, we have become more involved in the local community (we make sure to shop in the street) and belong to the local community association, which organises events (such as a lively street party with brass band and barbecue) to draw attention to local businesses. At the moment, though, most of our business comes through word of mouth. And, very usefully, we have three GPs who now regularly refer patients to us. One had been to a human givens workshop and consequently sent us a patient who had been difficult to help. The patient got better very quickly, so that has led to very many more referrals. The other GPs had also heard of the approach and first tried us on spec. Our success with these referrals has helped us to build good relationships with those GPs and has given them confidence in us as therapists. It also helps, we think, that we operate from a dedicated centre, as it makes us highly visible and seems to add to the credibility of the approach. We intend to make contact with a few more GPs and have plans for presentations to practices in the pipeline.
So far, so good…
Overall, we have been thrilled with the way that the centre has worked out so far – and we are still learning all the time. Like most human givens therapists, we see clients with a wide variety of difficulties and challenges and it is great having team members with whom to share ideas and concerns. There have been one or two changes in our therapy team, as people's circumstances have changed, but we have coped and we have also managed well through each other's absences during illnesses or holidays. Because we have kept things simple, the centre has not been a source of financial (or other) stress, but is instead a place that we absolutely love working in.
When we opened the centre, Ivan Tyrrell said something to us that has always stayed in our minds. We were expressing our slight apprehension about what we were taking on and he said that, as long as we did this with the right intentions – rather than for egotistical reasons – it would be a success. We often remind ourselves of this. We both feel that setting up the centre has been an adventure, a source of much learning, fun and laughter, and that we are providing the community with a source of good-quality, effective therapy. It is invaluable that we share our values and goals: we genuinely feel that we are working together for the same reasons – to help people recover quickly from distress and to spread knowledge of the human givens approach.
The York Human Givens centr eis now a thriving business which is going from strength to strength.
See: www.yorkhumangivens.co.uk for more information about the centre.
Gail Rhodes originally trained as a nurse and midwife, before training as a human givens psych0therapist, and is also a trained bereavement counsellor. She is an accredited supervisor with the Human Givens Institute and is also a member of its board. She offers supervision for counsellors and also for other health professionals as well as for a team of clinical nurse specialists at a local hospice.
Jenny Waddington grew up in Zimbabwe and has been living in North Yorkshire for 12 years. She was  a secondary school English teacher, then an editor, before training as a human givens psychotherapist. Besides running the York Human Givens Wellbeing Centre with Gail, she works at a local hospice, providing bereavement support.
---
This article first appeared in Volume 19 - No. 1: 2012 of the 'Human Givens Journal'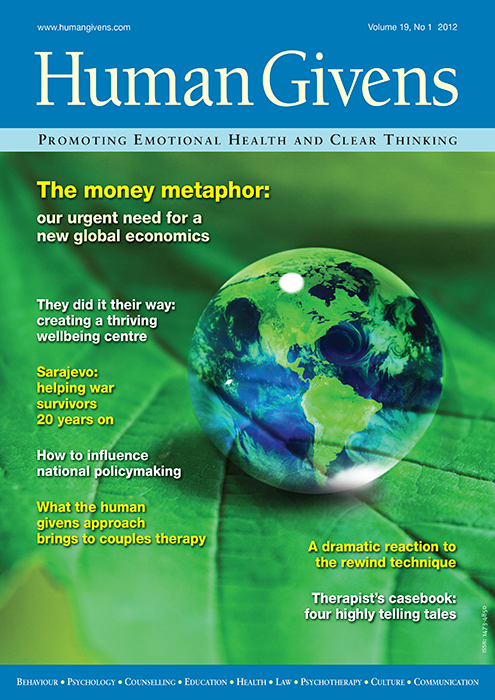 Spread the word – each issue of the Journal is jam-packed with thought-provoking articles, interviews, case histories, news, research findings, book reviews and more. The journal takes no advertising at all, in order to maintain its editorial independence. 
To survive, however, it needs new readers and subscribers – if you find the articles, case histories and interviews on this website helpful, and would like to support the human givens approach – please take out a subscription or buy a back issue today.
Latest News:
Sue Gray, who takes over from Dr Declan Lyons, is an accomplished Senior Health & Social Care Director and Clinician...
As you may be aware of the work being carried out by the BACP/BPC/UKCP to create a framework called Scope of Practice and Education (SCoPEd).