Claire Hynd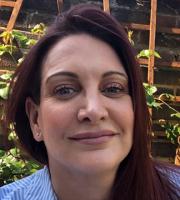 Email Me
Contact Details
Telephone Number
07712 135243
About Me
Claire has worked within the NHS and is an airline crew counsellor. Specialising in grief and loss, couples, relationships and sexual issues. Overcome your difficulties in confidence, in as few sessions as possible. Support offered face to face at her practice 5 minutes from Hampton Court station or online.
---
About me
"We cannot control the weather, but we can always adjust our sails"
Human Givens therapy is an innovative, modern, forward thinking and solution focused approach.
Our sessions together won't be just talking therapy, as a visual practitioner who treats clients holistically and creatively I will act as mentor and guide as we navigate your troubles
It's important that your therapist is the right match for you - feel free to contact me to discuss affordable treatment with no obligation to book.
Training
Advanced training in psycho sexual issues and couples counselling
Experienced grief, loss and bereavment counsellor
Seasoned volunteer at a suicide prevention charity
Experience working within the NHS, supporting front line staff, home carers and end of life care
Therapist and coach to ex offenders who wish to rehabilitate upon release from prison. Family mediation to facilitate ease of this transition
Emotional support at Flying with Confidence to overcome fear of flying
I hold enhanced DBS
Student rate / low cost online support available