Emily Gajewski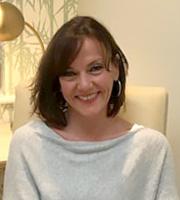 Email Me
Contact Details
Practice location
Hassocks (Near Brighton)
East Sussex
United Kingdom
Telephone Number
07887 503601
About Me
Emily has worked in the NHS and privately, for over 20 years as a therapist, helping people move on from even the most severe emotional difficulties. She was most recently employed as a Lead Occupational Therapist in Sussex and has developed a number of mental health services, including children and adolescent services working with a wide range of emotional difficulties and also leading on staff development and training.
She lectures nationally on the subject of self harm and has continues to write articles on the subject, including in 'An Idea in practice' which was short listed for The MIND Book Of The Year Award 2008. She has also co-authored a self help book '49 ways to think yourself well' based on Human Givens Principles.
She has a particular interest and belief in the mind and body connection and takes a holistic approach to her work. She feels passionate about helping to break down stigma around mental health issues, believing that we all move up and down the mental health continuum, depending on the amount of stress in our lives. By learning and using tried and tested techniques, Emily believes we all have the potential to be emotionally healthy and happy.
Emily is also passionate about applying these principles to birthing and has successfully worked with a number of women to enable them to have natural empowering labours and births.
Qualifications
HG.Dip.P, BSc (Hons) Occupational Therapy, State registered Occupational Therapist (SROT), Human Givens Advanced Level Course, Post Graduate Diploma in Psycho-social interventions (MSc Level), APPLE (Accreditation of Practice Placement Educators), Registered Supervisior, Statutory Training in child and adult protection
Professional Memberships
FHGI
Member of the Health Professional Council (HPC)
Hassocks (Near Brighton)
East Sussex
United Kingdom
Supervision available
Zoom, face to face and telephone