Felicity Jaffrey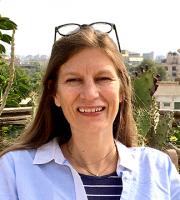 Email Me
Contact Details
Telephone Number
+20 120 6240 727
About Me
Originally from the UK, Felicity Jaffrey has had 20 years experience of cross cultural living. She has a career background working in journalism, aid and development and school leadership.
She spends most of the year living in Cairo, Egypt where she counsels people from many different countries and backgrounds.
Felicity is aware of the growing stresses in peoples lives in an age of increasing globalisation, family and relational pressures and environmental insecurity.
She trained in Human Givens therapy having seen its effectiveness in quickly and comprehensively restoring mental wellbeing to people, enabling them to live meaningful lives that work well.
Felicity practices from her home in Cairo and also in Liverpool during July and August, she is willing to go to people's houses if necessary. She is able to offer online counseling especially for people living in remote places or countries where there is not much mental health care.
Felicify has been DBS checked in the UK
Qualifications
HG.Dip.P, BA(Hons)
Languages Spoken
English
Arabic (Conversational)