Fiona Sheldon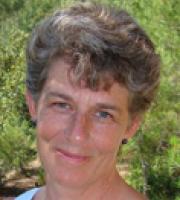 Email Me
Contact Details
Telephone Number
07787 515124
About Me
Fiona works as a Human Givens Psychotherapist /Trainer
in a busy private practice in Wiltshire : Know how to thrive.
as part of a multi-disciplinary team in a county-wide weight management clinic.
as a specialist trauma therapist for ex-military & families and emergency services personnel.
with refugees in Africa training in emotional health and trauma awareness and organisation of trauma therapy training to refugees within their own communities.
I have worked in a wide range of health, social care and community settings for 40 years, first as an Occupational Therapist, specializing in palliative care for the terminally ill, their carers and families from 1999-2012. I set up in private practice as an HG psychotherapist alongside this work in 2011.
Treating trauma of all sorts is a notable part of my work, whether for children; anti/post-natal mums; paramedics, or ex-military, reservists and their families for PTSD Resolution (www.ptsdresolution.org), or anyone who has experienced trauma or developed phobias. I also provide the psychotherapy for an NHS county-wide weight management service, treating the trauma often under-lying long-term obesity and I am involved in the multidisciplinary preparation for further bariatric treatment.
I have used both OT and psychotherapy skills abroad in voluntary missional situations since 2002, including teaching about trauma awareness and how to build emotional health + resilience with refugees and organized the training of Children's Accelerated Trauma Therapists (CATT © Carlotta Raby) within the refugee population in a number of camps in Uganda.
I have always been passionate about enabling people to be more aware of and in control of their own physical & emotional health, thus producing the resilience to enable the living of life well.
Understanding and believing that as human beings we all move up and down the mental health continuum, depending on the degree of stress brought to bear, is important. However, discovering and learning to use the strengths and resources that we have, is essential for our emotional health and wellbeing, impacting the quality of our physical health as a result.
I have a busy private practice and when necessary can travel to see people in their homes/schools. I treat all ages from 5 years upwards, using many OT core skills and creativity alongside HG psychotherapy and coaching to tailor sessions to individual needs.
1:1 therapy sessions will usually last for 60-120 minutes. You might expect to come for a maximum of 8 sessions, but most people have 3-6 and some only 1 or 2. The aim will be to help you to feel better and bring about lasting positive change in as few sessions as possible. Click here for more information about the elements of effective therapy. Outcome measures will often be used to guide the therapy and give helpful feedback for client and therapist.
I also provide small group/team emotional resilience training, particularly for health personnel regularly exposed to trauma and I am happy to talk to small / larger audiences on any related topics, for example 'understanding the importance of sleep' in a school setting.
As a member of the Human Givens Institute, I have PSA accreditation and work in accordance with their code of ethics and professional conduct policies, undertaking supervision when required. As a 'data controller' I hold a licence with the Information Commissioner's Office, observing all relevant aspects of data protection and have enhanced DBS disclosures as a 'child and adult workforce counsellor' and have safeguarding training.
As well as one-on-one therapy sessions, I can also provide training for large/small groups.
Please feel free to contact me, to discover whether this is the right approach for you.
Qualifications
PG Dip.(HG Psychotherapy) Nottingham Trent University, HG.Dip.P. Human Givens Institute, MRCOT Occupational Therapy Diploma (Dorset House, Oxford), CATT Children's Accelerated Trauma Therapist – ACT International licence holder for CATT© Trauma Psychology UK
Professional Memberships
MHGI    Member of the Human Givens Institute
ETSI    Member of the European Therapy Studies Institute
HCPC    Member of the Health & Care Professions Council
RCOT    Member of the Royal College of Occupational Therapy
ICCE    Member of the International Center for Clinical Excellence
Supervision available
Face to face, Online, Telephone