Jose Steer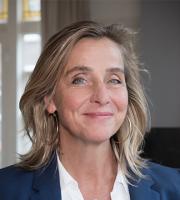 Email Me
Contact Details
Telephone Number
+31 (0) 683594704
About Me
I am a dedicated, open and energetic professional. I provide a safe environment, that allows my clients the space to work in a focused manner and challenged to meet their goals. Clients refer to me as warm, driven and thorough. Additionally, I am considered engaging and as working with humour and relativism. I focus on activation and further development of my clients' existing resources. I create the dynamics to enable sustainable change. My ambition is that clients experience freedom of choice and sense of connection, to help them live a motivated life and to get the most out of themselves.
After secondary school, I worked for two years in England, amongst other jobs as an auxiliary nurse in a psychiatric clinic. It motivated me to work with people and made me wanting to understand more about how mental wellbeing works.
I attained my MSc in Educational Science (Amsterdam University) in 1987. During its main internship, I worked as a social worker in an adult psychiatric acute care unit.
For 17 years I worked as a company counsellor for a big, international Banking & Insurance Company, developing profound knowledge about psycho-social stress in the working environment. 
Since 2012 I work as a private practitioner, first in Amsterdam and, since 2017, also in Glasgow. Since 2013 I am a fully qualified Human Givens coach, counsellor and therapist, working for businesses, not-for-profit organisations and individuals. I like to work with organisations that acknowledge the importance of ongoing, education, personally and professionally. I am a e-coach for an online soft skill learning platform and work both face to face and online with clients.
In 2019 I started as a part-time Human Givens therapist at The Prince's Trust in Glasgow (via the Mindset charity). I am supporting young people to understand and take control of their own needs and wellbeing and by doing so, help them move forward.
I have a Dutch equivalent to the DBS disclosure.
Qualifications
HG.Dip.P, MSc Education, Registered qualified company counselor, Qualified Change-expert (personal domain) ; Qualified Integrated coach, ACT practitioner - advanced certificate , Connected as a coach to an European market leader in soft skills, team performance and leadership development.
Professional Memberships
MHGI
Member of the Human Givens Nederland
Member of Dutch Professional Group for Social Work, BPSW