Phoebe Weiland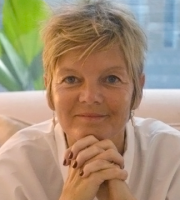 Email Me
Contact Details
Practice location
Long Crendon Osteopaths
14 Bicester Road
Aylesbury
Buckinghamshire
HP18 9BP
United Kingdom
Telephone Number
01844 215 555
Mobile Number
07873 972120
About Me
You may be anxious, depressed or feel 'stuck'. Perhaps you are struggling to move on from difficult experiences, feel overwhelmed or in constant pain. I use a wide range of tried and tested counselling and meditative techniques to help you feel more hopeful and calm right from the first session.
Good therapy helps you move past problems and meet your emotional and practical needs.
We often have competing voices in our head - some led by our rational, thinking self, others by powerful emotions. When life gets difficult, emotion can overwhelm us and block our ability to problem solve. Think of therapy as 'borrowing someone's brain' for while to help you step outside your thoughts and feelings and see things from another perspective. This way you can identify which voice you choose to listen to and how to take back control.
Therapists trained in the Human Givens approach focus on what is preventing a distressed person from getting their emotional and practical needs met. We use a variety of up to  date psychological methods and tools, focussed on problem solving and developing new life skills. One important tool is the Emotional Needs Audit, which is a short questionnaire containing ten key areas for emotional health. Why not take a look at this for yourself to see how well your needs are being met? (Click here to view the questionnaire) This is a great start to assessing where your life might be improved and is the framework for any work we might do. This could help to:
Reduce Anxiety – including stress, panic attacks, fears or phobias
Break the cycle of depression – and wake up feeling life is meaningful again
Resolve Trauma – all forms of trauma including Post Traumatic Stress Disorder
Manage Anger – which can damage your health and cause distress to those you love
Stop addictive behaviours – all forms of compulsion and addiction can be overcome
Harmonise relationships – to help stay together or bring about healthy change
Feel better quickly
You should feel more relaxed and positive after every session. Although I will need to know something about your past to understand your present, our work will always be about the future and how to get you up and running again as quickly as possible. Research published by the British Psychological Society concluded that Human Givens therapy is "highly effective' and that three out of four Human Givens clients were 'either symptom free or reliably changed after an average of 3.6 sessions.'
How sessions work
The first meeting starts out with me finding out about you and your life and the difficulties you are experiencing. You will have filled out an Emotional Needs Audit to provide a starting point for this conversation. More often than not, right from the first session we will also begin using relaxation methods to provide you with immediate relief from psychological stress.
From here we will work out achievable and realistic goals to focus on, starting with small manageable steps and continuing at a pace that suits you. As well as activating your own resources to meet these goals, you may develop new skills – such as how to quickly defuse panic, feel more comfortable in social situations or simply improve your sleep. At the end of this discussion you may be invited to take a few moments to relax and reflect on the thinking you have done and to imagine putting new ideas into practice.
Treatment ends when you're happy you have made enough progress to continue living a healthy life without regular assistance from me.
Our body often reflects our emotional state
Many of us have physical symptoms which are fuelled by our thoughts and feelings. This may be anything from a 'nervous tummy' (IBS) to joint or muscle pain, headaches or feelings of exhaustion.  Sometimes our body is telling us something our mind finds hard to face. When the two are helped to connect and communicate with each other properly, solutions are found and symptoms often disappear.
Pain is often fuelled by strong emotions such as  stress, anger or depression. Learning to manage these feelings can have a huge impact on helping you become more comfortable, so you can return to your normal activities.
How to get started
If you would like to know more, please email me at [email protected] or feel free to give me a call on 07873 972 120. This way I can give you some idea of the kind of work we might do together straight away.
Qualifications
HG.Dip.P (Human Givens Diploma), DHPC (Diploma in Hypno-Psychotherapeutic Counselling). As well as being a member of the Human Givens Institute, I am also fully accredited with the UK Council of Psychotherapy. I originally trained with National College of Hypnosis and Psychotherapy.
Professional Memberships
HGI (Human Givens Institute)
UKCP (UK Council of Psychotherapists)
NRHP (National Register of Hypnotherapists & Psychotherapists)
Further information
Fees: All sessions last one hour and are charged at £75.00. I am a registered Provider with Aviva (Provider Number: 6001 42538) and AXA (Provider Number PW02980). I have a special interest in gut-directed psychotherapy, chronic pain management, trauma and healthy eating as well as the use of hypnosis for childbirth ('hypno-birthing'). I have worked directly with victims of domestic, workplace and sexual abuse.
Long Crendon Osteopaths
14 Bicester Road
Aylesbury
Buckinghamshire
HP18 9BP
United Kingdom