Phoebe Weiland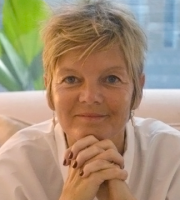 Email Me
Contact Details
Telephone Number
01844 215 555
Mobile Number
07873 972120
About Me
We often have competing voices in our heads - some led by our rational, thinking self and others by powerful emotions. When life gets difficult, emotion can overwhelm us and block our ability to problem solve. When we can't find a way out of our problems, we become unable to meet our own needs and live a healthy, balanced life. Our work together will help you identify which voice you want to listen to, the resources you already have to draw on and what new skills you might develop in order to meet your needs.
Feel better fast
My aim is to make you feel more balanced and positive after every appointment. Although I will need to know something about your past to understand your present, our work together will always be about the future and how to get you up and running again as quickly as possible.
How therapy sessions work
Each session begins with a focussed and practical discussion to help you work out what makes you feel better, create a road map to reach this and identify the personal resources you already have to get there as quickly as possible. This is then followed by a relaxing few moments of guided meditation to reflect on the ideas you have generated and imagine putting them into practice.
Learning skills and strategies
Much of what we do together will be highly practical. You may learn how to manage your time better, be more assertive or feel more comfortable in social situations. Or you could be taught strategies to defuse stress or panic, sleep better or use your imagination positively to see things going the way you'd like them to.
Our body often reflects our emotional state
Many of us have physical symptoms which are fuelled by our thoughts and feelings. This may be anything from a 'nervous tummy' (IBS) to joint or muscle pain, feelings of exhaustion, skin conditions or some forms of migraine. Sometimes our body is telling us something our mind finds hard to face. When the two are helped to connect and communicate with each other properly, solutions are found and symptoms often fade away.
Other information
I have worked with victims of domestic, workplace and sexual abuse. I have DBS clearance and am a registered Provider with AXA and Aviva Health insurance. Please call me if you would like to know more or to discuss your needs on 07873 972 120 or you are welcome to email me on [email protected]
Qualifications
HGDip.P (Human Givens Diploma), DHPC (Diploma in Hypno-Psychotherapeutic Counselling), BA (Hons)
Professional Memberships
HGI (Human Givens Institute)
UKCP (UK Council of Psychotherapists)
NRHP (National Register of Hypnotherapists & Psychotherapists