Wendy Amey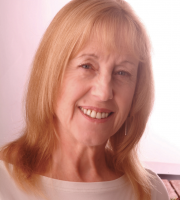 Email Me
Contact Details
Telephone Number
07799 112120
About Me
After working in a social role with Education Welfare, Youth Offending Teams and Family Group Conference organisations, I trained in the Human Givens (HG) approach and qualified in 2003, achieving my post-graduate status in 2005.   I entered private practice, accepting self-referrals from individuals experiencing emotional health difficulties, primarily – stress, anxiety and depression.   Following an article about me in The Hampshire Chronicle, I have helped a number of people with phobias – flying, fear of dying, spiders, eyes, bellybuttons, blood, enclosed spaces, open spaces, fish and more complex, related presentations.   All of these phobias are common enough to be given a specific name – including the well-known, Arachnophobia (spiders), to the less well-known, Ommetaphobia (eyes) and Omphalophobia  (bellybuttons). 
In 2005, as a result of my HG training in the treatment of Post-traumatic stress disorder (PTSD) and my background in law, I extended my practice into the assessment and treatment of PTSD in personal injury claims….. road traffic crashes, industrial/work-based/public place injuries and major critical incidents. 
In 2006, I embarked on a Master's degree programme and, in 2013, achieved my MSc (Psychological Trauma – practitioner).
Voluntary work:  In 2008, I was invited to join a working party to launch a new veterans' agency, The Veterans Outreach Support (VOS), based at The Royal Maritime Club, in Portsmouth.  I have worked in a voluntary capacity with the agency, since that time – latterly in a consultative role.   The clinical training for my Master's degree, was undertaken under the auspices of a consultant psychiatrist, trauma specialist and Falklands Veteran, at the VOS.   My work with Veterans and their families, over eight years, provides invaluable experience in the assessment and treatment of, often complex, military trauma.
I am an Associate with the International Centre for Clinical Excellence (ICCE).
I hold a DBS enhanced disclosure certificate,
Continuing professional development (CPD) includes attendance at conferences, including those in the USA & Romania, specialist webinars, participation in international forums and ongoing training eg. Acceptance and Commitment Therapy (ACT); studying Psychology via MIT 'Openware' programme.
Qualifications
HG.Dip.P., MSc (Psychological Trauma, Practitioner)
Professional Memberships
MHGI
ETSI (Member of the European Therapy Studies Institute)