Free ebook: 'Human Givens - The Essentials'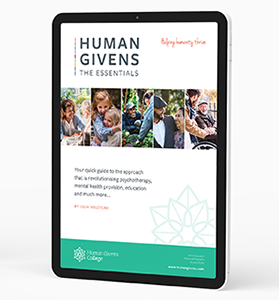 Want to find out more about the human givens approach?  
Download this quick FREE guide to the approach that is revolutionising psychotherapy, mental health provision, education and much more — it explains why the approach was first developed, why it's needed and how people from different professions are using its insights and the HG framework for mental health and wellbeing to help others.
To get instant access to your FREE copy of this ebook by Julia Welstead, simply fill in your details below.
> Spread the word:
Explore our articles and interviews
Latest News:
The Professional Standards Authority for Health and Social Care's (PSA) accredited Registers – which include the HGI's Professional Register, are now explicitly listed by the NHS, and the rigour of
Adapting to university life can be a daunting and highly stressful time for young people and their families as everyone adjusts to the many challenges and changes it brings – this 90 minute webinar with Gareth Hughes gives you some of the best advice available for anxious students and their loved ones...