2018 Conference Update
HGI News
Just announced
Full list of speakers and programme details now available
---
This year's conference looks set to be a thoroughly interesting and stimulating 2 days.
Joining co-founders of the HG approach, Joe Griffin and Ivan Tyrrell, will be a variety of speakers set to explore the Conference's theme of Living with uncertainty from their own unique perspective. They include: Sue Cook, David Goodhard, Chris Dyas, Dr Shona Adams, John Zada, Col. Tony Gauvain, Dr Declan Lyons, Bernie Rochford and more...
Our bi-annual conferences are always inspiring and stimulating – with broad-ranging talks and presentations – and a great networking opportunity. They are well attended by a range of interesting people from around the world, the majority of whom use the human givens approach directly in their work, but many others have benefited from it in their lives or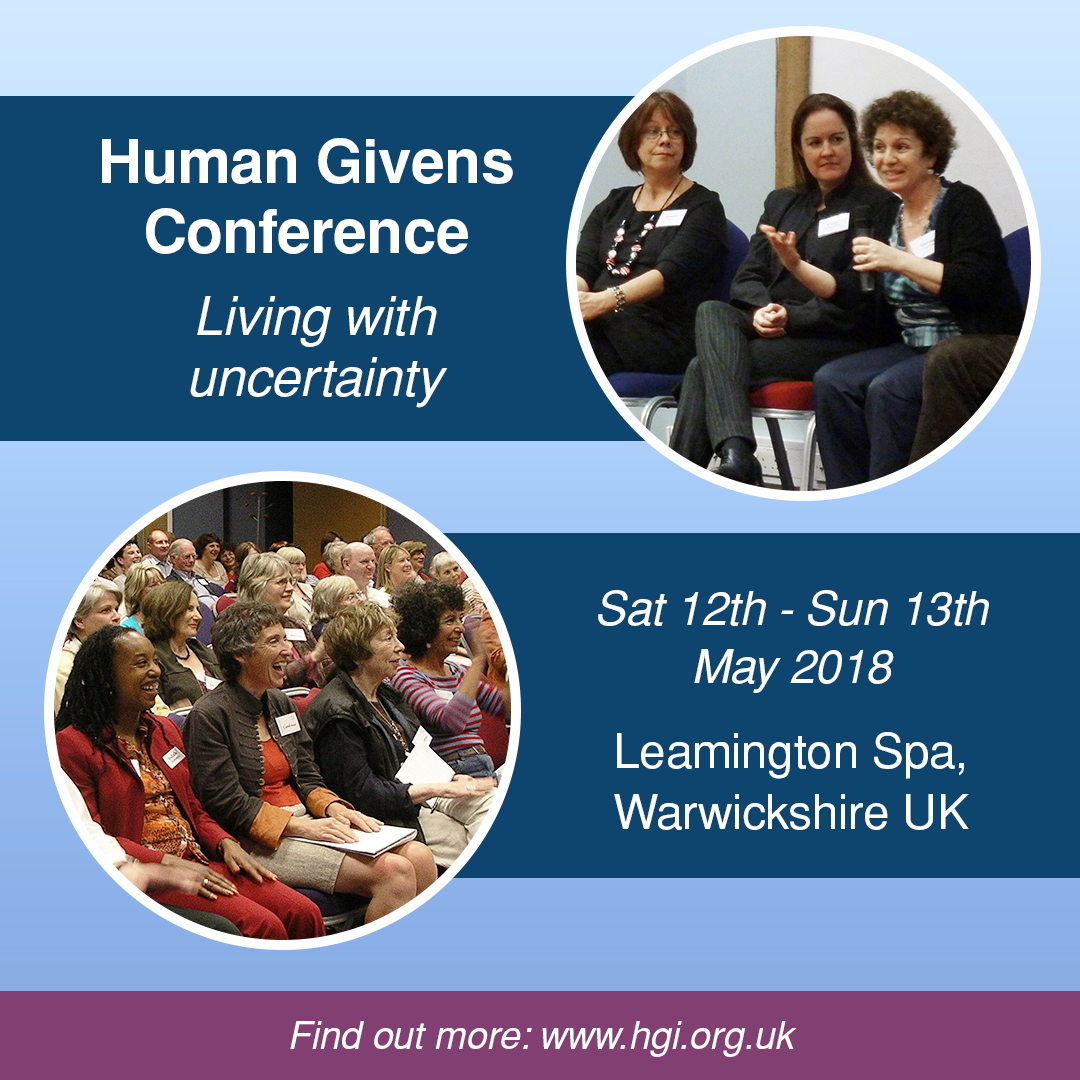 are simply interested in how the rich psychological knowledge the approach encapsulates can be used to improve not only mental health and wellbeing, but any human endeavour.
SAVE £25
Don't forget – if you book before 14th February you can save £25 on the full conference package price with our Early Bird Booking discount – click here for full details.
This year's conference is proving very popular, so we recommend you booking as soon as possible – you can download the Booking Form, fill in your details and send it to us with your payment to book your place – or call us on +44 (0)1323 811662 (9.00am–5.30pm GMT, Mon-Fri) with your credit/debit card details.
---
Posted 5.2.18
Just some of the feedback we've had from previous conferences:
"Superb quality of speakers ... the information was invaluable and networking priceless!"
S. Whitehouse
"In the 25 years I have been fascinated by the human mind, it's the first time I've been given an explanation of it that actually makes sense. I'm very excited by the new developments and ongoing research."
C. Smith
"... shows the way ahead for a saner organisation of human society.
It is truly inspiring but utterly practical – thank you."
J. Penton
"An excellent blend of theoretical, intellectual, political and practical ideas and a fantastic forum for sharing ideas."
R. Brook
"It felt good to be surrounded by sensible, clear-thinking people. And I had so many brilliant discussions over the weekend. Thank you!"
L. Potts
"Absorbing and inspiring from start to finish. Well done!"
M. Derricourt
"Excellent standard of speakers – diverse, relevant, thought-provoking, stimulating and wonderful to meet so many interesting attendees."
C. Drakard
"Fantastic programme – refreshing, motivating and enthusing. It's wonderful to hear that such good work is being done."
J. Mortimer
"All together brilliant!"
J. Whiteside
"Truly inspiring as ever. Incredible to see how far and wide the HG ideas and approach have now spread – long may it continue!"
D. Le Feuvre
"A really good mix of presentations and inspiring presenters. Money well spent."
S. Vanska
"It's been a real joy ... I leave with many new ideas, a newly focused vigour and the sense that I have much to think about. Super weekend – thank you."
D. Lobbet
"Inspiring and necessary communal sustenance!"
M. Mchugh
"Invigorating, timely and enlightening."
E. Young
"I enjoyed the conference from beginning to end and look forward to future events. I was on a high for days afterwards reflecting on all the information shared."
J. Black
"Really enjoyed this year's conference. It was thought provoking and provided new information for me to reflect on. The calibre of the speakers was high."
G. Layzell
"Thank you once again for such a wonderful two days – I always return home on a high!"
S. Cheshire
Date posted: 05/02/2018
Explore our articles and interviews
Latest News:
Whether you're interested for personal reasons, are thinking about becoming a counsellor, or are looking for effective mental health CPD, check out Human Givens College's online courses - and save 20% off many of them ...
You can now listen to two brand new podcasts - find out more here.