'Ask The Expert' Podcast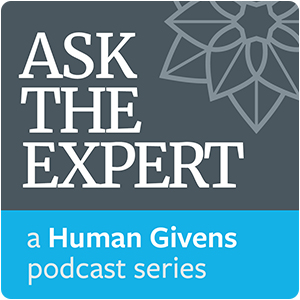 Welcome to the human givens 'Ask The Expert' podcast series!  Our new podcasts give you the opportunity to hear human givens professionals talking about mental health and emotional wellbeing from the point of view of their particular area of expertise.
Each podcast will discuss a different important mental health topic, both ones we feel should be openly discussed, and those in which our listeners have expressed an interest, in an effort to share and promote more widely effective tips and knowledge about emotional health and wellbeing. 
Newest Episode: 'Learning and anxiety'
with Joanna Baker
Grahame Brown is a specialist physician in Musculo-skeletal Sport & Exercise Medicine and works as part of the consultant surgical team at the Royal Orthopaedic Hospital NHS Trust in Birmingham. He is also honorary senior clinical lecturer at The Institute of Occupational and Environmental Medicine at The University of Birmingham, where he tutors courses on work related musculoskeletal issues including occupational rehabilitation. He also teaches the Effective Pain Management 1-day course for Human Givens College.
Upcoming topics
The next few podcasts will look at: learning and anxiety, loneliness and troubled teenagers
Ask a question
Before each podcast we ask you, our audience to submit any questions you might have that relate to the podcast topic. If you would like to submit a question for one of the upcoming topics above, please email it to gemma@humangivens.com
Also if you would like to get involved or have any suggestions, please contact us.
Our Podcasts are also available on:
Explore our articles and interviews
Latest News:
Our biennial HGI conferences are always a fun way to stay up-to-date and network with like-minded professionals. 
The Human Givens Institute is now listed as a regulatory body on Aviva's private practice register.