'Ask The Expert' Podcast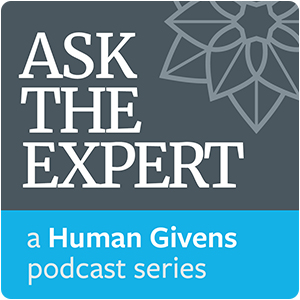 Welcome to the human givens 'Ask The Expert' podcast series!  Our podcasts give you the opportunity to hear human givens professionals talking about mental health and emotional wellbeing from the point of view of their particular area of expertise.
Each podcast will discuss a different important mental health topic, both ones we feel should be openly discussed, and those in which our listeners have expressed an interest, in an effort to share and promote more widely effective tips and knowledge about emotional health and wellbeing. 
Newest Episode: 'How too little REM sleep can contribute to suicidal thoughts, self-harm and anxiety'
with Ezra Hewing
Ezra Hewing is a Human Givens practitioner and head of mental health education at Suffolk Mind. Over a number of years, he has trained frontline mental health workers, doctors, nurses, substance abuse workers, members of the emergency services and heads of organisations, amongst others, in how best to understand and help people handle diverse mental health concerns. He holds an MSc in the psychology and neuroscience of mental health from the internationally renowned Institute of Psychology, Psychiatry and Neuroscience, King's College, London, through which he carried out research resulting in an explanatory model for the causes of the positive and negative symptoms of schizophrenia.
Ask a question
Before each podcast we ask you, our audience to submit any questions you might have that relate to the podcast topic. If you would like to submit a question for one of the upcoming topics above, please email it to [email protected]
Also if you would like to get involved or have any suggestions, please contact us.
Our Podcasts are also available on:
Explore our articles and interviews
Latest News:
This fascinating conversation is now available to watch.
Date posted: 10/01/2022
Discover what Suffolk Mind have learned and how they have been able to use this information to maximum beneficial effect ...
Date posted: 1/11/2021