'Ask The Expert' Podcast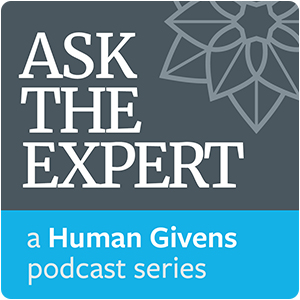 Welcome to the human givens 'Ask The Expert' podcast series!  Our new podcasts give you the opportunity to hear human givens professionals talking about mental health and emotional wellbeing from the point of view of their particular area of expertise.
Each podcast will discuss a different important mental health topic, both ones we feel should be openly discussed, and those in which our listeners have expressed an interest, in an effort to share and promote more widely effective tips and knowledge about emotional health and wellbeing. 
Newest Episode: How to make your private practice successful
with Jennifer Broadley
Our latest expert is Jennifer Broadley, a Human Givens psychotherapist with two successful private practices in Aberdeen and Dundee and extensive business and marketing experience. On this podcast Jennifer, who tutors the 'How to build a successful private practice' 1-day course, answers a wide range of questions sent in by other therapists, giving you plenty of tips and advice as she does so...
To access the references mentioned in this episode, click here.
Upcoming topics
The next few podcasts will look at: intimate relationships, post-natal depression, body image…
Ask a question
Before each podcast we ask you, our audience to submit any questions you might have that relate to the podcast topic. If you would like to submit a question for one of the upcoming topics above, please email it to gemma@humangivens.com
Also if you would like to get involved or have any suggestions, please contact us.
Our Podcasts are also available on:
Explore our articles and interviews
Latest News:
Amárach Research have just published the results of their recent survey of the mental health and wellbeing of 1,000 adults in Ireland, using the Human Givens Emotoinal Needs Audit
Date posted: 07/03/2019
Blue Monday saw the launch of our new podcast series: Ask the Expert. We were delighted that Lee Pycroft agreed to be our first expert...
Date posted: 23/01/2019