'Ask The Expert' Podcast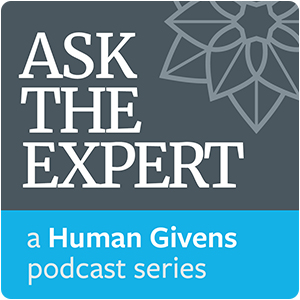 Welcome to the human givens 'Ask The Expert' podcast series!  Our podcasts give you the opportunity to hear human givens professionals talking about mental health and emotional wellbeing from the point of view of their particular area of expertise.
Each podcast will discuss a different important mental health topic, both ones we feel should be openly discussed, and those in which our listeners have expressed an interest, in an effort to share and promote more widely effective tips and knowledge about emotional health and wellbeing. 
Newest Episode: 'Menopause and facing the challenge of that change'
with Kim Thomas
Recently, Menopause seems to be a topic which has been highlighted in women's health - which is fantastic as all women will experience it to some level, at some stage in their life… and even though menopause is a natural part of ageing - it can be a very distressing process to come to terms with. For some, the symptoms and treatment methods are not understood - with many women experiencing unknown perimenopause symptoms for years.
Ask a question
Before each podcast we ask you, our audience to submit any questions you might have that relate to the podcast topic. If you would like to submit a question for one of the upcoming topics above, please email it to [email protected]
Also if you would like to get involved or have any suggestions, please contact us.
Our Podcasts are also available on:
Explore our articles and interviews
Latest News:
Topics include Grief and Bereavement, Self-harm and Trauma.  You can find out more here.
Date posted: 21/04/2022
Gain topical new HG insights - with Denise Winn's Helping Humanity Thrive blog - on Psychology Today.
Date posted: 21/04/2022