'Ask The Expert' Podcast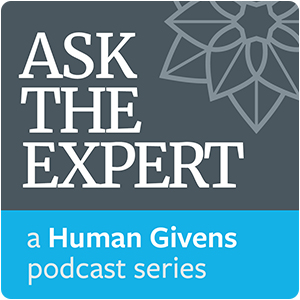 Welcome to the human givens 'Ask The Expert' podcast series!  Our new podcasts give you the opportunity to hear human givens professionals talking about mental health and emotional wellbeing from the point of view of their particular area of expertise.
Each podcast will discuss a different important mental health topic, both ones we feel should be openly discussed, and those in which our listeners have expressed an interest, in an effort to share and promote more widely effective tips and knowledge about emotional health and wellbeing. 
Newest Episode: 'How to restore the person behind it'
with Fiona Sheldon
Our latest expert is Fiona Sheldon, a Human Givens psychotherapist who works in a private practice in Wiltshire, where she helps people struggling with obesity and associated body image difficulties.
In this podcast Fiona explores the intrinsic connection between eating behaviours and emotional disorders, including past trauma, and offers in-depth guidance on how therapists can help people struggling with these issues to find a route back to living healthy and fulfilling lives.
Ask a question
Before each podcast we ask you, our audience to submit any questions you might have that relate to the podcast topic. If you would like to submit a question for one of the upcoming topics above, please email it to [email protected]
Also if you would like to get involved or have any suggestions, please contact us.
Our Podcasts are also available on:
Explore our articles and interviews
Latest News:
Sue Gray, who takes over from Dr Declan Lyons, is an accomplished Senior Health & Social Care Director and Clinician...
As you may be aware of the work being carried out by the BACP/BPC/UKCP to create a framework called Scope of Practice and Education (SCoPEd).