'Ask The Expert' Podcast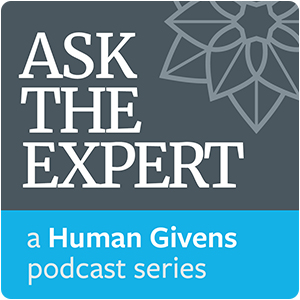 Welcome to the human givens 'Ask The Expert' podcast series!  Our new podcasts give you the opportunity to hear human givens professionals talking about mental health and emotional wellbeing from the point of view of their particular area of expertise.
Each podcast will discuss a different important mental health topic, both ones we feel should be openly discussed, and those in which our listeners have expressed an interest, in an effort to share and promote more widely effective tips and knowledge about emotional health and wellbeing. 
Newest Episode: Political deception and the CBT tsunami
Ivan Tyrrell with Farhad Dalal
Today we are listening in on a fascinating conversation between Ivan Tyrrell - Co-founder of the Human Givens approach and director of Human Givens College - and Farhad Dalal, who is a UK-based psychotherapist and author. Farhad Dalal's book - CBT: The Cognitive Behavioural Tsunami: Managerialism, Politics, and the Corruptions of Science is a robust, detailed and psychologically sophisticated critique of the frightening place where modern managerialism, regulation and compliance have taken us.
Thank you so much to Farhad and Ivan for sharing their knowledge and thoughts on this situation. Farhad's book is available to listeners at a 20% discount here and enter the code BSE19 at checkout. 
Upcoming topics
The next few podcasts will look at: body image, therapeutic storytelling and suicide prevention…
Ask a question
Before each podcast we ask you, our audience to submit any questions you might have that relate to the podcast topic. If you would like to submit a question for one of the upcoming topics above, please email it to gemma@humangivens.com
Also if you would like to get involved or have any suggestions, please contact us.
Our Podcasts are also available on:
Explore our articles and interviews
Latest News:
The Human Givens Institute is now listed as a regulatory body on Aviva's private practice register.
'JUST WHAT WE NEED' is a therapeutic group approach using a Human Givens framework. Dates for the next course are available.