Inside our ethics committee
In the first of what will become an annual feature, Ian Thomson, deputy chair of the HGI's Registration and Professional Standards Committee (RPSC), shares learning points from cases presented within the past year for adjudication or advice.
---
Physical contact
A client complained that her therapist had opened his arms to give her a hug at the end of their first session. Although she didn't allege any improper advances, she was uncomfortable with the gesture, as she had been abused as a child, and the therapist knew this. She was also uncomfortable that the therapist had spoken of his personal spiritual beliefs. This was not pursued as a formal complaint as the client declined to provide the therapist's name, despite being asked. However, the matter highlights the need for caution in relation to physical contact with clients, however well meaning, and the importance of therapists avoiding reference to their own personal beliefs and practices, religious or otherwise.
Correct insurance
Our annual audit of Fitness to Practise declarations identified that one HGI registrant did not have proper professional indemnity insurance. The therapist had been under the mistaken impression that Employers Liability Insurance covered their therapeutic practice. We make it clear in the HGI Professional Register Policy (which can be accessed on the HGI RPSC page of the HGI website) that Employers Liability Insurance doesn't cover therapy services and that practitioners need professional indemnity insurance cover. However it is worth re-emphasising, along with the fact that minimum cover stipulated by the HGI is £1 million.
Different agendas
Some therapists have sought advice in cases where a client's session is being paid for by a relative, and the relative expects to have feedback on the progress, or even the content, of the sessions. This is ethical only if agreed in advance with the client. Sometimes the client attends a first therapy session purely to please the relative and may be reluctant to continue, particularly if they do not consider that they have a 'problem'. This may be especially likely where the issue of concern to the paying relative is psychotic, manic or addictive behaviour. Such cases illustrate the ethical tensions that can surround confidentiality where relatives are concerned, and therapists need to be aware that their duty of care is to the client (if an adult), not the relative, when pressure occurs. If the client chooses not to pursue therapy, and does not want his or her reasons disclosed, the therapist is not at liberty to disclose them, unless the safety of the client or others is deemed to be at risk.
'PSA-accredited'
It came to light that an HGI registrant had used the term "PSA-accredited psychotherapist" in marketing their services. It is highly important for HG practitioners to take on board that only the HGI register is accredited, not individual HG therapists. However, UK practitioners who have been admitted to the HGI Register of qualified therapists are entitled to use the logo (see right, available from Human Givens College) on their stationery and in marketing. Trainees may not do so until they have qualified. Unfortunately, qualified HG therapists whose work is outside the UK are not entitled to use the PSA logo or to claim that they are covered by the PSA accreditation of the HGI register, even though they still need to abide by the HGI register's requirements.
Serious past crime
A therapist sought advice because a client had claimed during therapy that he had committed a serious crime sometime in the past, prior to therapy starting. On our advice, after we had given guidance in relation to the legal duty of disclosure in such cases, the therapist consulted the indemnity insurer's legal department. The insurer's solicitor advised the therapist that, as the client had been suffering from psychotic symptoms, it was quite possible that his admission was "pure fantasy" and, therefore, the therapist had no legal duty to disclose unless the client threatened to commit a crime in the future, or if the therapist were made subject to a court order, or the therapist's regulatory body (ie the HGI) insisted. The therapist has since reported that the client, who had been badly traumatised, has made good progress. 
Keeping confidentiality in schools
Guidance was requested on achieving a balance between pupils' right to confidentiality when seeing a school's HG therapist and keeping in the loop the staff member responsible for safeguarding. The therapist had argued against this, saying that the pupils had a right to complete confidentiality. Drawing on a similar past case, the RPSC suggested that the names (and only the names) could be disclosed to the safeguarding officer so that he/she would be able to check the wellbeing of any pupils whose appointments had to be cancelled at short notice if the therapist was ill. Provided pupils are made aware of this from the outset, the arrangement is legitimate and ethical.
'Diagnosing' PTSD
An HG therapist sought advice after being asked by an insurer to state whether a particular client was suffering from PTSD. It is important to be aware that only clinical psychologists and psychiatrists are authorised to make such diagnoses officially. If a client seeks such a diagnosis, it is best to suggest that they approach one of these professionals for it. However, if a therapist asks a client to complete the Impact of Events Questionnaire, a recognised psychometric measure which indicates the severity of the trauma-related symptoms experienced, and the scores indicate a significant degree of severity, it is acceptable, if the client consents, to inform the insurer of this. But it is the therapist's responsibility to ensure that the information provided in this way should not be taken as a clinical diagnosis of PTSD.
'Tipping off'
There were two separate cases in which therapists who had been approached by the police about particular clients contacted us for advice about providing case notes in such circumstances, and whether they should tell the clients. They were advised of the need for court orders in such cases and also that they should consult their indemnity insurers. We also drew their attention to the offence of 'tipping off'. This comes into play where a therapist becomes aware that a serious crime may have been committed and, in informing the client that they are going to tell the police, inadvertently leads the person to 'do a runner' or otherwise cover their tracks. In such cases, it is safer to go directly to the police.
Safekeeping of records
In an earlier article ("Aspects of good practice", Human Givens, 2016, vol 23, no 1), I gave the RPSC's advice on safekeeping of records, pointing out that written notes need to be kept in a locked cabinet. In the light of one therapist's experience since, of having some of her client notes destroyed in a flood, the advice on data protection in the Professional Members area of the HGI website has been updated to include avoiding keeping client notes in the bottom drawer of a cabinet, as a precaution against flood damage.
Complications in working with couples
What are the ethics of starting sessions with a couple, where the therapist has already been treating one of the partners individually for some time and consequently is in possession of sensitive information not known to the other partner? This was the question one HG therapist brought to the RPSC. Both partners were keen to undertake the relationship counselling and were aware of the situation. We advised that, ethically speaking, the therapist could see the couple, provided that she was comfortable to do so in the circumstances. If not, it would be reasonable to refer them to another therapist. The therapist was also advised that she could see the original client's partner individually first, in order to get their perspective on the situation and give them confidence in the therapist's impartiality, and that she could not legally disclose sensitive information about either party without consent, unless someone's safety was deemed to be at risk.
Recommending supplements and supplementary practices
One therapist asked us where she stood on talking to her clients about supplements, such as omega 3 or 5-HTP, which she had "heard good things about". She added that she believed mindfulness could be beneficial to her clients, and often recommended a specific website.
We advised that it is generally permissible to recommend omega 3 in the form of fish-oil capsules to clients, and to stress to clients that they should go for a reputable brand, one that is free from contaminants and that contains more EPA than DHA (this is recorded on the container). Therapists should advise clients to consult their GP before taking it, however, especially if they are on medication and/or have a health condition. 5-HTP is a precursor to serotonin and can be harmful to some people, so it is best not to recommend it to clients.
As regards mindfulness, it is permissible to talk about it and teach some simple exercises but it must be borne in mind that some people take to it and others don't. It is wise to be cautious about recommending particular organis-ations, unless convinced they are completely ethical. Mindfulness can also be harmful to some. See Ivan Tyrrell's review of 'The Buddha Pill: can meditation change you' (Human Givens, 2015, vol 22, no 2) for more information on that.
When not to use the rewind technique
The committee has from time to time been approached for advice about the advisability of using the rewind technique on clients involved in legal proceedings of some kind.
RPSC chair Sue Saunders, who provides the HG rewind training, said: "The central thing to keep in mind here is that circumstances alter cases and that the role of the HG therapist is to help the client meet their needs. So, there is no hard and fast rule about when to do a rewind. If a client is undergoing a legal case for damages (e.g. after an accident or assault), it is important to let the client know that after the rewind they may be less distressed. This may affect the outcome of the case, as it may appear that they have been less damaged by the event. However, since they will be less distressed, they will be better able to deal with the legal process, attending a court hearing, speaking more fluently, etc. They may also remember the event more accurately. It is important that this decision be made by the client and not by the therapist."
Sue referred to some different examples, such as a client refusing a rewind until after a case was heard; a client wanting the rewind because their mental health and quality of life was more important to them than the money; a client so identified with being the victim (she was writing a book on her traumatic experiences) that she refused a rewind; a client asking for a rewind but its having little or no effect until after the case had been heard. She concluded, "It is important to ensure that we meet our clients' need for control and autonomy. Our responsibility is to outline clearly the possible positive effects of a rewind and the likely consequences for a legal case, so that they can make this informed decision. Remember, a legal case can take many years to be finally heard by a court and leaving a client very emotionally upset for that long may not be appropriate."
One request for advice concerned a pupil who had disclosed experiencing sexual abuse. The case was going to court. We advised the school therapist not to undertake the rewind (or any other 'hypnotic' approach) with the client until after the court case had been finalised, as it could raise questions about the accuracy of the client's memory of the events in question post-treatment. It was agreed that the therapist would confine treatment to calming and reassuring the client for the time being.
IAN THOMSON is deputy chair of the HGI Registration and Professional Standards Committee, and a human givens practitioner and accredited supervisor.
---
This article first appeared in "Human Givens Journal" Volume 24 - No. 1: 2017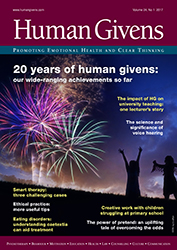 We need your help – this article originally appeared in the Human Givens Journal which takes no advertising at all, in order to maintain its editorial independence. 
To survive it needs new readers and subscribers – if you have found the articles, case histories and interviews on this website helpful, and would like to support the human givens approach – please take out a subscription or buy a back issue today.
Latest News:
Topics include Grief and Bereavement, Self-harm and Trauma.  You can find out more here.
Date posted: 21/04/2022
Gain topical new HG insights - with Denise Winn's Helping Humanity Thrive blog - on Psychology Today.
Date posted: 21/04/2022