Join the HG community online with our Free Webinars
Human Givens College regularly hosts FREE educational webinars on key subjects related to psychology, human behaviour, mental health and wellbeing in order to spread high quality information and raise the profile of the human givens approach. These are live online events, featuring a range of speakers, which are regularly attended by 100s of people from around the world. Attendees are able to ask relevant questions via the online chat facility.
A replay of the webinar is usually made available for a short period after the live event itself – if you'd like to find out more, or would like to sign up to hear about future webinars, please click here.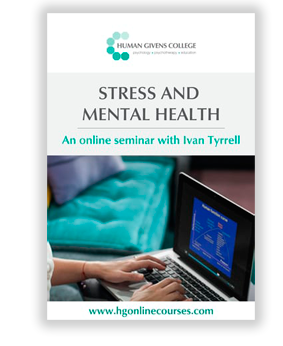 On-demand Webinars
Stress and Mental Health – what you need to know, one of the college's most popular webinars, is now permanently available to view on demand for a nominal fee – to view it, click here.
Webinar outline:
In this online seminar, Ivan Tyrrell, co-founder of the human givens approach, shares revolutionary ideas on what causes mental illness and how you can prevent it.
If stress impacts on you or anyone you know, you will find this webinar helpful.
You will discover:
The common myth about stress we shouldn't ignore
When stress starts to impact on your health – the human function curve 
How dreaming normally reduces stress levels – and what can go wrong
Common causes of stress – and what we can do about them
The link between stress and depression – how to break the cycle
Why stress sometimes leads to psychotic breakdowns
How knowledge of the human givens enables us to understand and treat mental illness more effectively
What you can do to moderate stress – in yourself and others
• • • • • 
> Watch the webinar here – there's a SPECIAL BONUS just for viewers!
• • • • •
"Thanks for offering this terrific seminar. It was well worth my time"
"Please thank everyone involved with the human givens approach for making coherent sense of what was, and still is for many people, a right old muddle. It seems to bring all the relevant information about what it is to be human together into a simple whole that enables us to see ourselves and get ourselves together. In an insane age it provides more than a glimmer of human hope."
"Thank you for providing this extremely helpful seminar. I have attended some live human givens courses and they have dramatically changed my approach to treating depression – to good effect!"
• • • • •
Spread the word:
Latest News:
In the light of current global events, several people have asled us to make Ivan Tyrrell's fascinating free webinar available once more – you can now watch it online, read on for details...
Understanding extremism in the Syrian conflict through the prism of 'Human Givens' - Thursday 16th March 2017 in Cheltenham