Case study - They came in the night
How a modified version of the rewind technique helped heal the emotional wounds of a family subjected to savage violence in a country torn by civil war.
Warning:  This article starts with detailed descriptions of violence and rape that some readers may find upsetting.
---
Elena, Tom and three-year-old Anna were sleeping in their small home in a war-troubled country. Tom woke at the noise and roused Elena, who dressed quickly, tied Anna to her back and, at Tom's urging, tried to escape through the kitchen window while he went out to face the government troops. Elena was caught after only a few yards and was roughly brought to the front of her home and thrown to the ground.
The soldiers beat her husband, accusing him of belonging to the opposition party. They then turned their attention to Elena and, with a semi-conscious Tom pinioned and forced to watch, they gang-raped her. Anna was still strapped to her mother's back for most of the attack, which ended with a rape with an AK47. The soldiers then climbed back into their government vehicle and drove away. Villagers appeared from their hiding places and took the family to the nearest clinic where they were treated. Elena took a long time to heal physically. She is now HIV-positive.
The traumatised family was brought to me for counselling. Anna would not allow her father anywhere near her and screamed and went rigid if he tried to connect with her. Presumably, she blamed him for not protecting them and now grouped him with 'the bad men'. Elena and Tom both responded to the rewind technique (a way of removing emotional over-arousal associated with a traumatic experience by 'rewinding' and 'fast-forwarding' through it, while relaxed) and it was clear that Anna also badly needed help to overcome the terrible trauma. But how could a three-year-old without the language skills be led through the technique? I hit on the idea of using actors to enact the sequence of events, simulating the rewinding and fast -forwarding of the scenario. 
Elena and Tom belong to a culture that employs trance states regularly and the shaman has an important position in the community. After discussions, the local shaman agreed to assist in this variation of the rewind technique with Anna. As I had been involved with the counselling of victims of political torture in the area, I had had many past dealings with this shaman and knew him to be 'safe' in terms of his political affiliations.
I asked for the help of a troupe of actors with whom I had close ties and whose integrity could be trusted. Tom and Elena rehearsed them for accuracy and they had to perfect rewinding and fast-forwarding the action. I showed Anna a tape of The Lion King (she had never seen a television or video before) and we rewound and fast-forwarded it, showing her how to use the remote control. Like any three-year-old, she took great delight in playing with the tape and making things move the wrong way or speeding them up! I then taught her to rewind or fast-forward at my instruction. Elena explained to Anna that I had removed their fear about the horrible men and now we were going to take her pain and fear away too. Then the shaman put Anna into a deep state of relaxation. 
We used my garden, after dark, lighting a fire and placing Anna close to it, as the shaman used the movement of the flames to help induce and maintain the trance. The shaman then showed her herself (a young actor dressed as Anna) watching the enactment of the traumatic scene, starting before the soldiers arrived and ending with their rescue and arrival at hospital. He ensured she relaxed again, and kept her as calm as possible throughout the scene. She was given the remote control and told she should wind it backwards from the arrival at hospital. I watched from behind and, as she pressed the button, I indicated to the actors, who went into fast rewind. When they got to the beginning, she was told to fast-forward, and again I indicated to the actors. It took nine sequences before Anna could watch the scene without any emotion.
Then the acting area filled with 'smoke' (dry ice) and the shapes of the actors slowly disappeared, as if by magic! Before bringing Anna out of the trance, the shaman told her that her father was a very brave man and was trying to stop those bad people from hurting others. When she was returned to normal consciousness, Anna ran to her mother and then, tentatively at first, took her father's hand. They returned to their village, a proper family once more. The actors all said they would never give such a satisfying performance again — ever!
It is evident that the rewind technique is very flexible and can be adapted to any cultural situation. As in this case, one can even weave actual and imagined portrayals of events together. We also mixed media, with a remote control changing real actors' movements. As in dreams, nothing is too bizarre to be believable.
The shaman continues using the rewind technique for post-traumatic stress treatment in the villages. And I hope and pray that the soldiers never returned to that little family.
All names, including the author's, have been changed to protect the identity of the subjects.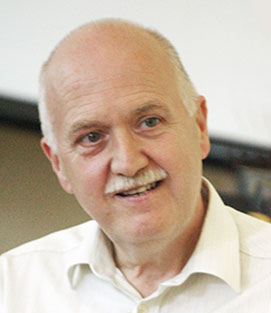 JOE GRIFFIN is a research psychologist and psychotherapist. He is, with Ivan Tyrrell, co-founder of the human givens approach.
Over the last two decades, as co-developer of the human givens approach to psychology and behaviour, thousands of health professionals have enjoyed his practical workshops and seminars on brief therapy for treating anxiety related disorders, depression, trauma and addiction. As the Educational Director of the College he works at the leading edge of skills-based therapy research and practice. He is widely recognised as one of the most informed and entertaining speakers on human behaviour.
---
This case history is from the article PTSD: Why some techniques for treating it work so fast originally published in "Human Givens Journal" Volume 12 - No. 3: 2005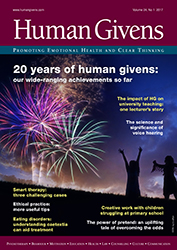 Spread the word – each issue of the Journal is jam-packed with thought-provoking articles, interviews, case histories, news, research findings, book reviews and more. The journal takes no advertising at all, in order to maintain its editorial independence. 
To survive, however, it needs new readers and subscribers – if you find the articles, case histories and interviews on this website helpful, and would like to support the human givens approach – please take out a subscription or buy a back issue today.
Latest News:
The Human Givens Institute (HGI) was one of the six organisations, along with BACP, UKCP and NCS, involved in developing the SCoPEd framework,
As you may be aware, after 26 years as editor of the Human Givens Journal, Denise Winn will be stepping down at the end of 2023. Despite advertising for a successor last year, we have been unable to find any one person who could fulfil the role.
Date posted: 13/04/2023