Using the human givens to cope with personal adversity
#standuptocancer
Val Giblett shares her experience of how human givens principles helped her cope, in her own way, with the diagnosis and treatment of an aggressive cancer.
---
In July last year, when I would normally be busy with all manner of outdoor activities, I became aware that I was not at my usual level of fitness. It didn't take long to make the connection with how I was feeling and the lump I had discovered in my stomach. I felt shock and disbelief.
With my husband about to sell his lorry and retire from general haulage, we were eagerly pursuing our ambition of building a cob house on our 12 acres of land in Norfolk as well as planning to visit, for the first time, relatives who had moved to New Zealand. Calming down my emotions became paramount. The 7/11 breathing helped tremendously and, as I was already well practised, it didn't take lots to calm down the mind/body system whenever anxiety and fear wanted to take over.
By the time I saw the GP the lump had dramatically increased in size and I had had to withdraw from physical activities. The GP was honest about the fact that it could be a large ovarian cyst, which could sometimes be cancerous, but there were no symptoms to suggest that. I told my husband the constructive elements of what the GP had said and that he was referring me for a scan. Verbalising this positively was a useful process, as it enabled me to externalise many of the thoughts that, until this point, had been going on in my head. This in itself can create positive emotional shifts and, although I knew the problem shared would create anxiety for my husband, his support further contributed to my remaining positive and pragmatic. Thinking 'outside myself' helped me to accept the unknowns and deal more calmly and rationally with what could conceivably be a threat to my survival. It enabled me to see the bigger picture and trust both in advances in healthcare and in my body's own ability to contribute to its healing.
The uncertainty continued. I was told I needed an ultrasound assisted biopsy, as a mass behind the ovary had shown up on the scan. Then I was told that the mass might not be coming from the ovary and that they needed to find out where it originated. Using all my trusty human givens techniques made it possible for me to continue functioning, be patient, tolerate unknowns and handle close relatives' concerns.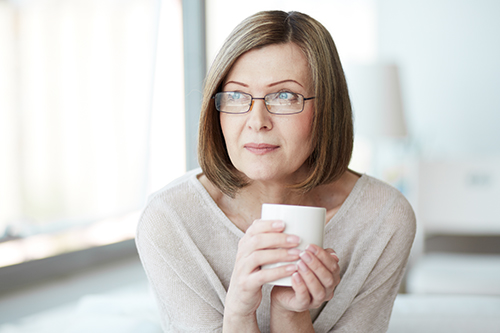 At the beginning of October I was asked to see a consultant haematologist. I chose to attend that appointment – and all other appointments and procedures – on my own. I felt that having someone with me who might be stressed themselves would generate anxiety, whereas, on my own, I could focus on remaining calm, read my book while waiting and do whatever was required to move things on to the next stage. I have found that, when fear and anxiety are under control, the negative impact of procedures, discomfort or even pain can truly be minimised or even made non-existent.
My husband, who is a cancer survivor, continually offered to accompany me, but I didn't need him to relive his experience of being told he had cancer. Whereas he had found it useful that I accompanied him to appointments and treatments and helped him to remain calm (especially as, when he was told he had cancer, he was unable to process any further information), I had already accepted that it was likely I had cancer. In a positive way, I was already imagining myself embarking on a treatment process that would give me the best chances of survival.
Accepting the diagnosis
So, when the haematologist told me I had a large lymphoma in my stomach, which, although aggressive, was one of the most treatable and more likely to be completely cured, my relief was apparent. It was not the response that the consultant and specialist nurse were expecting and may have led them to assume that I was in denial. Quite the reverse was the case. Acceptance played a major role in enabling me to move on to the next stage – the hope of effective treatment. Preparation and thinking that wasn't consumed by out-of-control emotions helped me minimise or even prevent reactive and fearful responses, as well as the possibility of post-traumatic stress.
To develop and maintain tolerance of distress, I found it key to calm down my emotions, relax, exercise, have hobbies and interests to be absorbed by, recognise negative thoughts and stop or reframe them, communicate with others, connect with my environment and community, and be compassionate and kind to myself. I concentrated hard on doing all this, finding it constructive and empowering to take on responsibility for my actions and wellbeing. I accepted that there would be some distress in the face of real adversity, but nothing I could not handle. For instance, the consultant had explained that undergoing chemotherapy would be rough at times and there would be side effects. I reminded myself that millions of people, including many I know, have been through this and, if they could cope, then I certainly could too. I knew I had to take control by ensuring I received the treatment I needed, asking questions and positively embracing tried and tested treatments that were going to help me.
Getting started
From my point of view, the treatment couldn't start soon enough. I knew I was in trouble and that the lymphoma needed to be attacked soon. Just over a week later, the day after my first chemotherapy treatment, I was reversing my car into a parking space and I suddenly realised I could easily turn and look through the rear window with nothing restricting me. It felt as if the lymphoma had already lost its grip, like the tentacles of an octopus letting go. The image was powerful and I took it as a good sign. Amazingly, I experienced no significant side effects from the treatment, no nausea or fatigue and I was able to continue my therapy work for the next four months, although I did refrain from going to public places or seeing anyone who could be infectious when my immune system was at its lowest, and I ceased doing strenuous work and activities. By the final two months of treatment I had accumulated more side effects, in particular a lack of interest in food, a fatigue the like of which I have never experienced, and an inability to cope with the cold. But I still did telephone-therapy sessions and continued driving to the hospital, and also to other places whenever I had the energy to go.
Positive versus negative thinking
My treatment experience made me so aware of just how damaging and limiting negative thinking can be, with all its detrimental effects on our emotional and physical health. Like most medical treatments, chemotherapy has advanced tremendously but historically it has had a 'bad press'. This has undoubtedly influenced people's fear and negative responses. I recall hearing a nurse warmly asking a man who had arrived for treatment how he was. The patient replied in a loud voice that many of us patients on the ward could hear, "I'm fine until you put that poison in me!" What an unhelpful hypnotic suggestion to give to himself and others in earshot, I thought.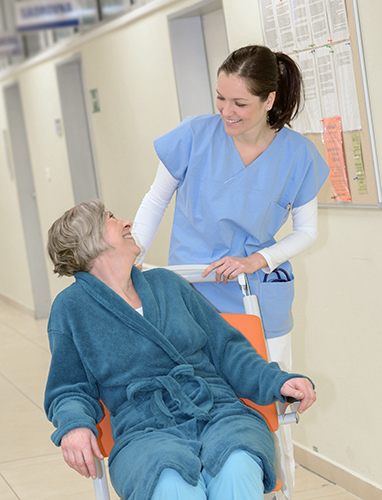 In the chemotherapy treatment ward there were many examples of emotionally charged, unclear thinking that only served to exacerbate fear and prevent patients from being realistic and finding solutions to difficulties. For example, I heard one man say that he was not well enough to start his chemotherapy treatment when, in fact, it was the disease that was making him ill, not the treatment that he hadn't started. The chemotherapy was often blamed even for symptoms present before treatment started.
Even when chemotherapy did play a part, I found it more helpful to look beyond the treatment to find solutions. One of the known possible side effects of chemotherapy is mouth ulcers so, when I developed a large ulcer on the side of my tongue, it would have been easy to blame its existence on the chemotherapy. But, because until then I had not experienced this problem, I began thinking about why it should have started occurring now. I realised that, as my tongue and mouth seemed less sensitive and because the weather was very cold, I was tending to start eating and drinking while foods and beverages were still too hot. I had a specific memory of some very hot food burning my tongue and a blister forming. When I began to let hot drinks and food cool a little, the blister that had become an ulcer healed. If I had blamed the chemotherapy, I might not have looked for a solution.
Undoubtedly there are some side effects from the treatment, but increased anxiety will heighten sensitivity to them. I realised that I must practise not giving these side effects too much attention. For instance, everyday smells like bread toasting or food cooking can become distorted and unpleasant, so I knew I had to change my normal response to horrible smells to minimise the negative consequences for me and others around me. Too many negative emotions also have side effects.
I believe we can all benefit from focusing on our own unique ways of reducing the fear of procedures, pain and discomfort. For instance, when nurses say, "This may hurt a little" or "You will feel a little scratch", it is meant to be helpful but it is still a negative hypnotic suggestion. I would say to myself, "It only hurts or scratches if I believe it will and, because in the grand scheme of things it is nothing, my response to any discomfort, should there be any, will be insignificant."
Remaining calm and positive enabled me to have a powerful feeling of sailing through adversity, even when there were challenges. After my treatment finished at the end of March, my energy levels came back relatively quickly; I returned to all my therapy work after Easter and am also back enjoying physical activities again.
Accessing our thinking brain is necessary for problem solving creatively and finding solutions to life's challenges. Taking part in life's challenges or struggles is, I believe, the very essence of our existence. Through it we find purpose and meaning and, without this, we will wither and die. The reality is that there will always be unknowns; life is constantly changing and evolving and that process doesn't stop. I have to accept that, at this present time, my CT scan still shows something shadowy and that, as the scan cannot differentiate, it is not possible to identify whether or not this is scar tissue. I choose to accept that my body and immune system will aid the natural healing process, a process I can enhance with relaxation, helpful visualisation and a healthy lifestyle. Adopting the philosophy "I can deal with the future when I get there" and tolerating uncertainty enables me to get on with living and enjoying my life.
---
This article first appeared in "Human Givens Journal" Volume 19 - No. 2: 2012
Val Giblett is a human givens practitioner and supervisor in Norfolk. She set up her practice 10 years ago, after many years working in mental health rehabilitation. As the county is rural, she provided the option of a mobile therapy room (a small bus) until two years ago. She now sees people in their homes or at a local private clinic.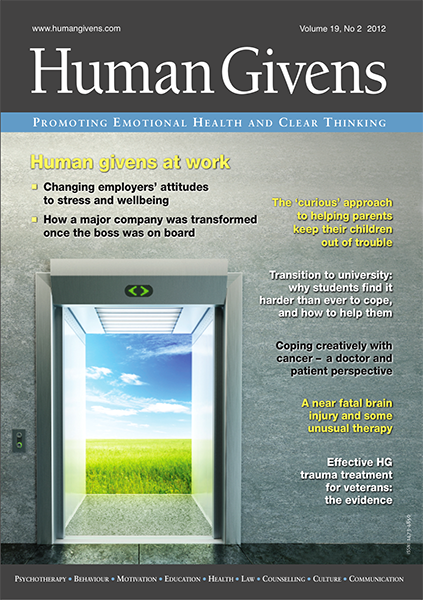 We need your help – this article originally appeared in the Human Givens Journal which takes no advertising at all, in order to maintain its editorial independence. 
To survive it needs new readers and subscribers – if you have found the articles, case histories and interviews on this website helpful, and would like to support the human givens approach – please take out a subscription or buy a back issue today.
Latest News:
The Human Givens Institute (HGI) was one of the six organisations, along with BACP, UKCP and NCS, involved in developing the SCoPEd framework,
As you may be aware, after 26 years as editor of the Human Givens Journal, Denise Winn will be stepping down at the end of 2023. Despite advertising for a successor last year, we have been unable to find any one person who could fulfil the role.
Date posted: 13/04/2023