Lyn Tonks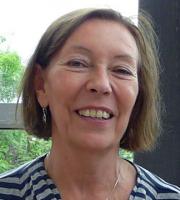 Email Me
Contact Details
Practice location
Upper Room, Wilmslow Methodist Church
King's Close
United Kingdom
Mobile Number
0793 937 5445
About Me
My name is Lyn Tonks BSc MA HG Dip P. I'm a registered counsellor working in Wilmslow.
I am a friendly and understanding counsellor working from dedicated rooms in Wilmslow town centre. When you come to see me, we will be able to talk together about what is troubling you at this time, in a comfortable, quiet and confidential environment. We can concentrate on your concerns, so you feel heard and supported.
I believe that counselling is founded on respect and compassion for each unique individual - that it is about nurturing a person's physical, emotional and spiritual wellbeing. Everyone has emotional needs and innate or learned resources to help get those needs met. Together we can explore your goals for therapy and discover ways to achieve them. Using Human Givens techniques such as 7 /11 breathing and Guided Imagery, I can help you learn new ways of coping to enable you to achieve emotional wellbeing.
Our counselling sessions will last between 1-11/2 hours and will encompass warmth, empathy, information gathering, goal setting, rehearsal, all to help you to best use your resources to get your needs met in balance. They will always include mutual respect, while building strength and hope.
I gained my first degree BSc Hons (in Microbiology) from Edinburgh University, which I used in the medical field in various countries. After a career break to bring up my family, I retrained in Management skills and worked in a busy engineering consultancy for 13 years. During that time I often found myself listening to people's problems. This led me to train as an Integrative counsellor and qualify with an MA in Counselling.
In recent years I have chosen to use Human Givens therapy as I have found people are greatly and quickly helped, often in one or two sessions.
In addition to private practice, I counsel in a voluntary capacity in a local Christian counselling service.
For the past 30 years I have also worked in a voluntary pastoral capacity, being available to people from all walks of life, to listen patiently and sympathetically to their concerns.
Overall, I think people see me as someone who, through life experience alongside continued learning, has developed a mature approach to dealing with their issues and concerns.
QUALIFICATIONS
BSc (Hons) in Microbiology (Edinburgh University)
MA in Counselling (Manchester University)
Human Givens Diploma (HG Dip P.)
In addition to my academic qualifications, as part of my on-going curiosity about counselling and continued learning, I regularly attend Continuing Professional Development events and workshops.
In my Pastoral role I have also attended training courses of a pastoral nature and content, including Safeguarding Training for Children and Vulnerable Adults.
PROFESSIONAL BODIES
I am a registered member of the Human Givens Register (MHGI) and also the British Association of Counselling and Psychotherapy (MBACP).
I abide by the codes of ethics and conduct of these associations, which are both accredited by the Professional Standards Agency (PSA).
I am also in possession of an Enhanced DBS.
I receive regular supervision of my client work to ensure you of the best possible outcome.
WHO I WORK WITH
I have worked with individuals ranging in age from 16-85, with a wide range of ways of understanding the world, on issues such as anger management, anxiety, depression, bereavement, loss of direction, search for meaning, stress, low self-esteem, relationship breakdown, trauma, phobias, spiritual issues and others.
Qualifications
BSc, MA, HG.Dip.P
Professional Memberships
MBACP (Member of the British Association of Counsellors + Psychotherapists)
MHGI (Member of the Human Givens Institute)
Upper Room, Wilmslow Methodist Church
King's Close
United Kingdom