'Ask The Expert' Podcast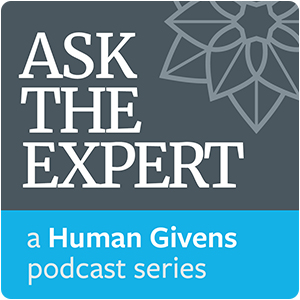 Welcome to the human givens 'Ask The Expert' podcast series!  Our podcasts give you the opportunity to hear human givens professionals talking about mental health and emotional wellbeing from the point of view of their particular area of expertise.
Each podcast will discuss a different important mental health topic, both ones we feel should be openly discussed, and those in which our listeners have expressed an interest, in an effort to share and promote more widely effective tips and knowledge about emotional health and wellbeing. 
Newest Episode: 'Working with anorexia - why we shouldn't focus on food'
with Martin Dunne
Martin Dunne is a human givens therapist, he has a successful private practice in a dedicated, multi-disciplinary holistic clinic. Martin also has extensive experience in group and individual psychotherapy with young trainees in REHAB; and is currently in Ireland's largest addiction treatment centre. Martin has worked for over 10 years helping people overcome trauma, addiction and eating disorders.
We are delighted to be discussing his work with eating disorders today.
Ask a question
Before each podcast we ask you, our audience to submit any questions you might have that relate to the podcast topic. If you would like to submit a question for one of the upcoming topics above, please email it to [email protected]
Also if you would like to get involved or have any suggestions, please contact us.
Our Podcasts are also available on:
Explore our articles and interviews
Latest News:
Whether you're interested for personal reasons, are thinking about becoming a counsellor, or are looking for effective mental health CPD, check out Human Givens College's online courses - and save 20% off many of them ...
You can now listen to two brand new podcasts - find out more here.