'Guilt sensitivity': a possible part to play in OCD
PEOPLE who find guilt feelings highly difficult to tolerate may be especially prone to the OCD-type behaviours of compulsive checking or checking rituals.
---
Italian researcher Gabriele Melli and colleagues observed that, although some studies show guilt may precede, motivate, or be a consequence of OCD, no one had really looked at the relationship between guilt sensitivity (i.e. to what extent people negatively evaluate the experience of guilt) and OCD.
The researchers created a new scale for measuring guilt sensitivity, containing statements such as "Guilt is one of the most intolerable feelings" and "The idea of feeling guilty because I was careless makes me very anxious", which almost 500 people volunteered to complete, rating their degree of agreement with the statements. They also completed other questionnaires which variously measured tendency to experience guilt, OCD, depression and anxiety. The results revealed that guilt sensitivity was more strongly related to checking-related OCD symptoms than depression or general anxiety.
Next, 61 people with a diagnosis of OCD and 47 with general anxiety disorders completed the guilt sensitivity scale and scales measuring anxiety and depression. "Guilt sensitivity was the unique significant predictor of checking-related OCD symptoms, independent of negative mood states and obsessive beliefs," report the researchers. The guilt sensitivity scores of patients who irrationally believed they could be responsible for harm to others were significantly higher than those of people with other obsessive concerns and with anxiety disorders.
The connection with guilt sensitivity was strongest for those with OCD who primarily engaged in ritualistic forms of checking. Although it is not clear whether guilt sensitivity actually triggers the checking behaviour, the researchers suggest that approaches that promote acceptance of guilt may be particularly helpful for this client group.
Melli, G., Carraresi, C., Poli, A., Marazziti, D., and Pinto, A. (2017) The role of guilt sensitivity in OCD symptom dimensions. Clinical Psychology & Psychotherapy, doi: 10.1002/cpp.2071
This article first appeared in "Human Givens Journal" Volume 24 - No. 1: 2017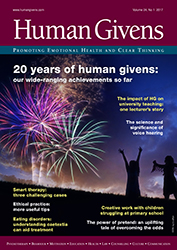 While you're here...   this article originally appeared in the Human Givens Journal - an independent publication which deliberately takes no advertising at all so that it can maintain its editorial freedom. 
Each issue is jam-packed with fascinating research findings, articles, interviews and more, but to survive the journal needs new readers and subscribers – if you've found the articles, case histories and interviews on this website helpful, and would like to support the human givens approach – please consider taking out a subscription or buying a back issue today.
Latest News:
Topics include Grief and Bereavement, Self-harm and Trauma.  You can find out more here.
Date posted: 21/04/2022
Gain topical new HG insights - with Denise Winn's Helping Humanity Thrive blog - on Psychology Today.
Date posted: 21/04/2022