A very different kind of coaching
Frances Masters describes what led her to set up a charity to deliver free psychotherapeutic coaching, based on the human givens.
---
I had been a human givens counsellor for two years when I realised that I had made a transition from counsellor to psychotherapeutic coach. It was a discovery that was to lead to the setting up of the charity Reclaim Life – a local psychotherapeutic coaching service based on the understandings of the human givens, which offers five coaching sessions free to anyone in our area and access to human givens therapists thereafter, if needed.
This is how it happened. After first qualifying as a human givens counsellor, I was very fortunate to be inundated with referrals from local GP Kate Smith, who was such an enthusiast of the approach that she would refer to no other kind of counsellor. Because I became so busy, I began to suggest to clients that, if they were happy with how the first session went, they might consider booking another three, and cancel if they found they no longer wanted them, rather than try to book later and risk my not being able to see them for some time. Very often, clients would come for their second session declaring that they felt so much better but were reluctant to cancel the sessions that they had booked ahead. Panics had gone; moods had lifted; they were engaging with life again, but they weren't quite confident that it wasn't a fluke or a temporary upturn.
That presented a dilemma: how would we use our remaining sessions most productively? It quickly became apparent that people dogged by depression or anxiety, often for years, may only ever think about getting through the day. Now that the depression and anxiety had gone away, they could, for the first time, contemplate what they would like their future (without the problem) to look like. That led me to the coaching component of my work, using human givens methods alongside recognised coaching techniques.
A standard coaching tool is the life wheel, which sits very comfortably with the human givens Emotional Needs Audit; there are many versions available on the internet. I had learned about its use in my first counselling training, prior to studying the human givens approach. The wheel is divided into specific areas, such as work, finances, physical environment, health, fun, family and friends, growth and learning, love, community and spirituality. The idea is to plot how these areas are fulfilled in a person's life in various ways (for instance, as a partner, parent, manager, employee, friend, community leader or sportsperson) and the importance that a person places on them. This can reveal what's 'missing'.
Working with the wheel activates the brain phenomenon of 'what you focus on is what you get'. The reticular activating system in the brain alerts us to whatever we have identified as significant, so, once clients are helped to start creating a vision of a positive future for themselves, they tend to pick up on or notice anything in their environment that is relevant to achieving it, whether it is courses, contacts, conversations or whatever else.
Eighteen-year-old Katie had arrived at my home, shivering and shaking, mid-panic attack. Her mother had had to bring her. She was in the middle of studying for A levels and kept crying that it was all pointless; she was wasting two years of her life when she could be in the 'real world'; she wasn't enjoying her subjects; she didn't know if she wanted to go to university and she just didn't want to carry on with studying, yet she was frightened not to. I got her to blow gently and slowly on her thumb and keep blowing until the panicky feelings subsided (a presupposition that they would indeed subside) – easier than explaining 7/11 breathing at such a time but a means of achieving the same relaxation effect. When she had calmed down, I was able to explain how her emotional brain had hijacked her thinking brain and that taking longer out-breaths than in-breaths (or gently blowing on her thumb) was a reliable way of regaining equilibrium.
Using the life wheel as a passport to communication, I helped Katie identify that what she really wanted was to become a travel journalist. Did she need A levels to achieve that goal? Well, in reality, probably yes. Suddenly, she could see that her studies were taking her towards her goal and she wasn't wasting her time at all.
Reclaim your life
For quite some time, GP Kate Smith and I had been trying to spread human givens understandings about mental health by giving talks locally in schools and village halls. We called them "Reclaim your life the human givens way" and put posters up in the local library and other places. People came because they were interested personally or professionally, quickly experienced the benefits in their own lives or referred themselves or others to me for further help. As I live in a small market town, word started to spread but not everyone, of course, can afford private therapy. We decided to set up the charity Reclaim Life, with the aim of bringing psychotherapeutic help free to those who need it. But first, we needed to recruit volunteers and train people to deliver it.
It took over a year to construct a programme which distilled what I do in my therapeutic coaching sessions into five three-hour training workshops, supported by reams of handouts. We have run the programme twice, attracting people mainly from the helping professions, such as doctors, social workers, health visitors and counsellors but also teachers and legal assistants. At the workshops, for which we charge, as a means of raising funds, they learn psycho-education skills to apply in their own lives or work settings and, if they wish to volunteer as Reclaim Life coaches, they get to practise their skills with clients in a supported environment and meet up monthly for case discussions. We are also introducing a buddy system for existing coaches to mentor new ones. As clinical director of Reclaim Life, I teach, supervise and mentor.
The training format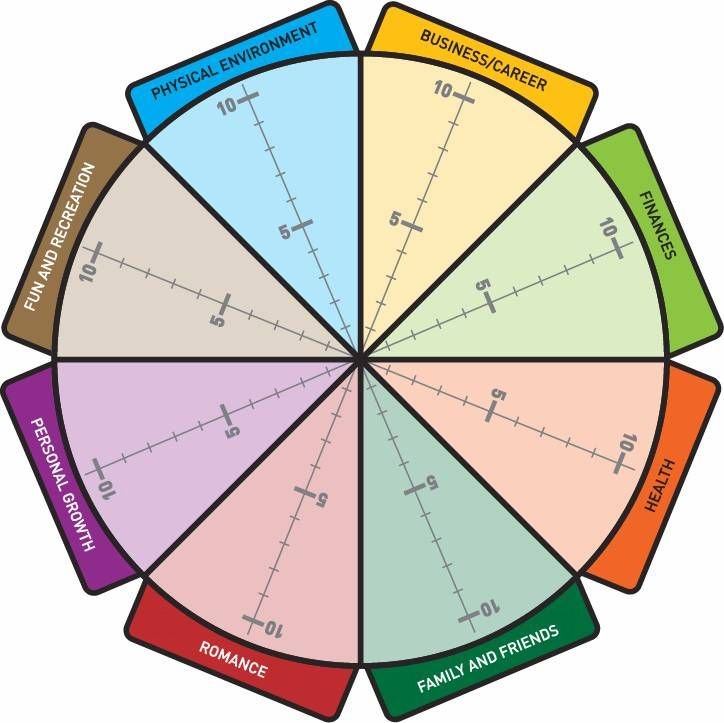 Workshop delegates start by learning about the brain. We cover basics such as the triune brain, the fight and flight response, emotional hijacking, the relaxation response and the reticular activating system. People are introduced to the human givens concept of needs and resources and the Emotional Needs Audit, the observing self, the role of therapeutic storytelling and working with metaphor, and techniques such as scaling and relaxation and guided imagery. They also learn about RIGAAR™ (rapport building, information gathering, goal setting, accessing resources, agreeing strategies and rehearsal), all within the context of working with a life wheel, and how a life wheel ties in with the Emotional Needs Audit. They then learn exactly how to structure their coaching sessions, using RIGAAR™ and the life wheel and feeding in other information and techniques as and when applicable. People are encouraged to be creative in how they work with the wheel, helping clients to identify dreams and hopes, however seemingly impractical, and then to explore elements of them that could be made reality and set practical goals for doing so. Guided imagery is an integral part of every workshop and of every coaching session, to embed what has been discovered and learned.
There are also some add-ons of my own – for instance the STOP system, to use for pattern breaking. STOP is an acronym for the steps to take to interrupt an undesired process, whether a panic attack, an anger episode or an addictive desire. We teach clients to say to themselves, "Stop!" to interrupt the behaviour and remind them that they have a choice: S is for 'seven-eleven breathing'; T stands for 'take a step back from the situation'; O is for the 'observing self – engaging it'; and P is for 'practise emotional intelligence' (applying what they have been told about the fight and flight response and emotional hijacking).
Our coaches say that they learn a huge amount in our sessions, not only to help others but about themselves, as they work through the wheel of life. They also read the human givens books, which we have available for them to buy. It is a brief, intensive training, with lots of ongoing support afterwards.
Volunteer coaches
We have so far trained 40 people and 12 are currently volunteer coaches for Reclaim Life; they are all keen to carry on and are becoming more adventurous in what they do, as their confidence grows. The sessions are offered at one GP surgery on three afternoons and two full days – the times when there is physically room for us. Each coach works a two-to-three-hour slot. We also offer sessions several evenings a week in a room that we have been offered free of charge in a local school. Whatever the reason that clients come to us (people can self-refer or be referred by their GP), they are asked to complete an outcome measure at each of their five sessions. We use CORE 10, a quick 10-question measure that assesses subjective wellbeing, risk, life functioning and problems/ symptoms, together with the Emotional Needs Audit. If, after the five sessions, people with more complex needs require further help, they are referred on to local human givens therapists, who have kindly agreed see them at a reduced rate.
Kate and I originally settled on the title psychotherapeutic coach because we wanted to avoid any problems that would ensue if 'counsellor' and 'psychotherapist' became protected titles. However, we have since discovered that the term 'coach' makes what we are offering feel more accessible to many, anyway. It is definitely more acceptable to young people (we will soon be seeing youngsters from the age of 14 and are having such success that Counselling for Children and Young People, a division of the British Association for Counselling and Psychotherapy, has asked for an article on Reclaim Life for their journal). Men seem to prefer the term too.
Hanging on
WHEN Shelley first came for therapeutic coaching, she looked tired and a bit dishevelled, as though she had just fallen out of bed. She explained that, since leaving school, she had been working part time in a pub and didn't get home until late. She felt her lifestyle was unhealthy, with smoking, drinking and late nights having an impact on how she felt (she had set a date to stop smoking). She was often tense and anxious and was sleeping poorly.
Working with the life wheel showed she was dissatisfied with the work, health and learning elements of her life but also indicated that she was very happy with home, family and friends. She spoke of wanting a more satisfying job and confusion , as she was drawn towards pub management, bookkeeping, social work and nursing. I suggested that we consider one of these options (she chose pub management, as she was familiar with it) and we progressed through the 'smart goals' questionnaire, looking specifically at the talents and resources she could bring to that role and what her future life might look like if she chose that path. I avoided embedding this image in visualisation, so as not to preclude the other career possibilities.
A breakthrough occurred when Shelley talked of her negative feelings about the future. "I'm used to failure," she said. "It's like I'm trying to walk but somebody's hanging onto my legs, holding me back." This metaphorical insight was therapeutic gold and I asked her to develop the image by closing her eyes and seeing who was holding on to her legs. She replied, "It's me. A part of me is trying to move forward and another part of me is lying on the ground, clinging onto my ankles and pulling me back." I suggested that she imagine herself on a TV screen being held back like this, to notice how she could free herself in some way so that she could move forward more easily and perhaps notice how she might feel lighter or freer, as a result. She told me afterwards that she had chosen to step out of her shoes and run barefoot.
We did further work around sleep, exercise and healthy lifestyle. Through our discussions, Shelley made a connection between smoking and a negative thinking style: every time she had a cigarette break, she said, it felt like an opportunity to beat herself up. She spoke of toxic thoughts. At the next session, Shelley arrived looking quite different. The shadows under her eyes had gone and she looked tidy and healthier. I reflected this back to her and asked what had changed. She said everything had changed. She had enrolled on a bookkeeping course at the local college and had already started. A family friend had offered her a job on completion of the 12-month course. She had reduced her smoking from 25 to five cigarettes a day, noticing less negative thinking as a result, and still intended to keep to her cut-off date. Her sleep was also better. She felt she had taken charge of her life and was moving forward.
Even though our coaches work primarily with the life wheel, they are referred, and work successfully with, the same sort of people that counsellors see. And that is no surprise, as human givens techniques are relevant in either setting. As we know, helping people out of depression is about getting them to make changes to their lives, not hark on about symptoms, so coaches are equally able to work successfully with a clientele with mental health problems. For instance, our office received a call from a woman who had become unable to face going into work and was clearly suicidal. The volunteer gave her the Samaritans' telephone number and told her that she would be contacting her GP, (as confidentiality no longer applies in such circumstances).
The GP saw her that very afternoon and still referred her for coaching because she knew that she would receive so much valuable information and understanding. Using the vehicle of the life wheel and understandings from the human givens approach, the coach will help her look at the imbalance between her work and social life so that she will be able to see why she had become so stressed and depressed. Just talking to someone at the Reclaim Life office, taking action and setting up the sessions had the effect of restoring this client's hope for the future, and she felt able to return to work that week.
The next aim is to encourage more GPs in the area to invite us into their surgeries, once they can see how successful we are being. We have for some time been channelling many of Kate's patients through Reclaim Life and the success of this is absolutely clear from the outcome measures. I have now had a stamp made, which reads, "Five sessions at Reclaim Life – call this number" and I intend to present it to GPs to stamp onto their prescription pads. The hope is that they will use it instead of, or alongside, antidepressants. Kate has recently retired but remains a staunch supporter of our work.
Shortly before the first Reclaim Life training pro- Psychotherapeutic coaching gramme, it occurred to me that it would be a good idea to check what was current in coaching training, so I attended a study weekend with a large coaching organisation. The trainer opened her programme with the question "What is counselling?" Somebody in the audience thought she knew the answer: "Somebody who listens, empathises and doesn't judge but who, through reflecting and reframing, will allow the client to find their own way forward. Someone who will offer psychological support whilst helping the client identify repeating patterns and making them aware of choices.'
"Well, if you want any of that," said the trainer, crisply, "don't come to a coach!" That was when I realised that a counsellor who has coaching skills is very different from a coach. This was confirmed when a highly experienced executive coach working in industry told me that he had no interest in psychopathology and would not feel skilled to deal with mental health issues if they arose. "I am concerned with the outside," he said "and someone like you deals with the inside."
However, through Reclaim Life and psychotherapeutic coaching, we have shown that there need be no artificial divide between the two skills and that the human givens approach creates a highly functional bridge between them.
Frances Masters is apsychotherapeutic coach, trainer and supervisor, working from her home in Tebworth, Bedfordshire. She is clinical director of the psychotherapeutic coaching charity Reclaim Life (www.reclaimlife.net) and also teaches the BTEC level V Professional Counselling Diploma at Central Bedfordshire College. She is currently writing a book on psychotherapeutic coaching.
---
This article first appeared in "Human Givens Journal" Volume 18 - No. 1: 2011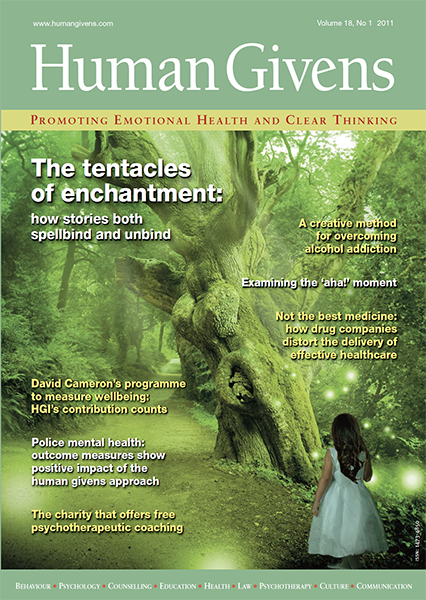 We need your help – this article originally appeared in the Human Givens Journal which takes no advertising at all, in order to maintain its editorial independence. 
To survive it needs new readers and subscribers – if you have found the articles, case histories and interviews on this website helpful, and would like to support the human givens approach – please take out a subscription or buy a back issue today.
Latest News:
Topics include Grief and Bereavement, Self-harm and Trauma.  You can find out more here.
Date posted: 21/04/2022
Gain topical new HG insights - with Denise Winn's Helping Humanity Thrive blog - on Psychology Today.
Date posted: 21/04/2022