Celebrating 20 years of the human givens approach
We take a wide-ranging look at what has been achieved since two pioneering psychotherapists put a name to this powerful understanding of human nature.
---
TWENTY years ago Joe Griffin thumped a table in frustration. He and Ivan Tyrrell were at a meeting with a few other therapists, discussing how they could jointly develop training in psychotherapy. Joe and Ivan felt strongly that psychotherapy should draw on the knowledge available from psychology and start from basics, to present a more holistic approach to wellbeing. It was not going down well.
"It can't be right that there are so many different models of psychotherapy!" Joe expostulated. "You never find hundreds of different models in other fields." The others looked at him non-plussed. "Look!" he said. "We know that people need to feel secure. It's a given. They need attention. That's a given. They need to be connected to the community, another given; they need intimate relationships, meaning in their lives – all givens!"1 Despite his banging on the table to emphasise each 'given', the others didn't get it. But Ivan saw the potential.
As he describes in his memoir, "We left the meeting feeling despondent and disappointed by how unadventurous their thinking was, fixed in the belief that they already had all the answers. As we walked down the street outside, it was grey and drizzling, as if to reflect our disappointment, but Joe's presentation had fired me up. I suddenly stopped on the pavement, turned to him and said, 'Why don't we call what we are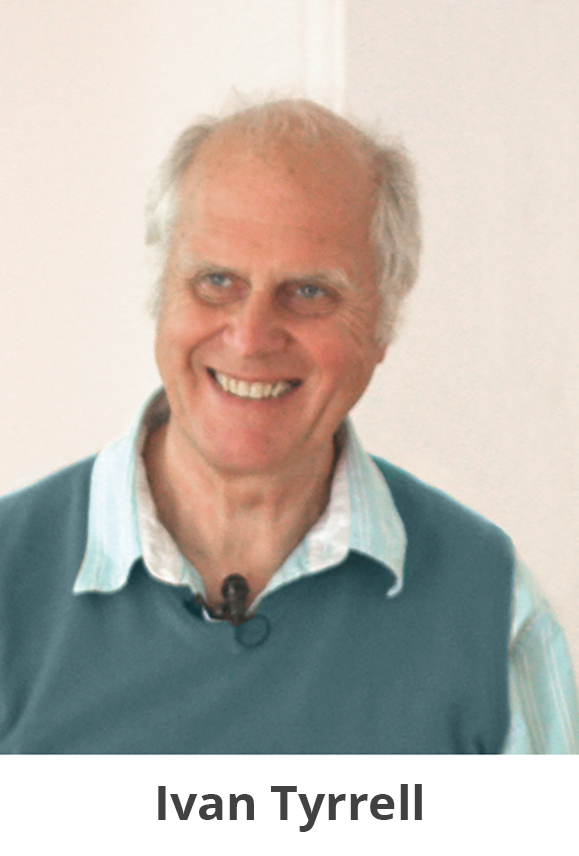 teaching 'human givens'? No one will have heard of it and curious people will ask us what it means and that will give us the opportunity to explain it.' I felt sure that, deep inside, most people knew they had innate emotional needs – these 'givens' Joe had spoken of – and would quickly get what we were talking about if given the chance."1
So the human givens started to be talked about on the courses that Ivan and Joe were teaching on depression, anxiety, addictions and anger. Innate needs and resources became the corner-stone for understanding and working with people's lived experience, and were first fully articulated in an article published in 1998 in The Therapist, the predecessor of this journal.
"We would like to suggest an approach which we believe can bring a new clarity of thought and vision to the field, giving us an essential background to work from and enabling us to see more clearly what is of value in any particular therapy method. We have called it the human givens approach and, in this journal, as regular readers will know, we have been directing attention to the various properties of these 'givens' for some time. The posture we have been advocating is that therapy always works best when it comes not from an emotional or theoretical standpoint but from a real understanding of what it is to be a human being. … To be effective as therapists, we contend, we have to be aware not only of basic human needs but of the 'tools' [such as memory, imagination, problem-solving abilities, self-awareness, dreaming and a range of complementary thinking styles for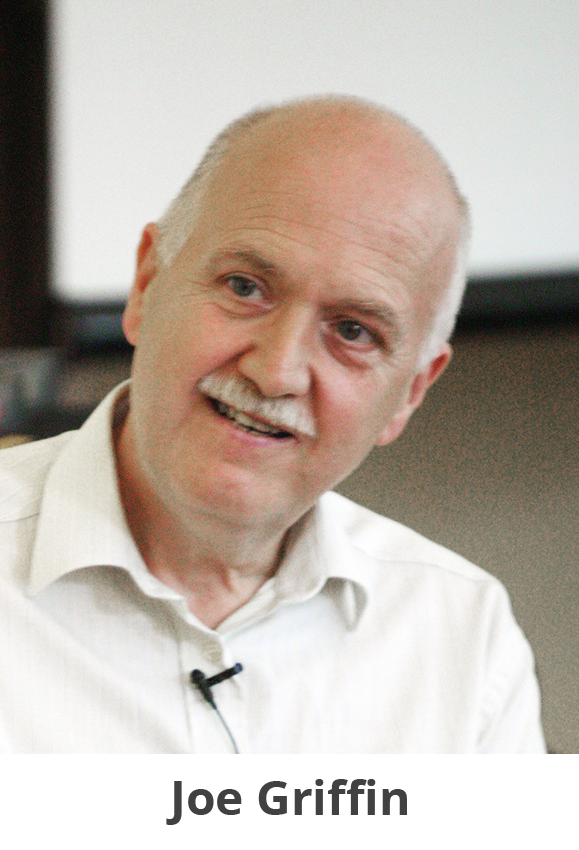 different situations] that human beings have evolved to use for understanding and impacting on their environment. Together these comprise the human givens. When used well, they can provide purpose, achievement and mental health; when used wrongly, they can cause misery and mental illness."2
These ideas and their off-shoots developed into a series of monographs and then a book Human Givens: a new approach to emotional health and clear thinking,3 then more books. Then, after repeated requests from health, social work and other professionals at trainings, the ideas and understandings were developed into a diploma course, so that talented people could practise officially from the human givens approach.
Sixteen years later, the Human Givens Institute has a register accredited by the Professional Standards Authority (PSA), putting it on equal footing with other better known and much longer established therapy associations, such as the British Association of Counsellors and Psychotherapists, also accredited by the PSA. (For that and for their tireless continuing work to maintain registration, HG therapists Sue Saunders and Ian Thomson especially deserve much gratitude.)
Groups of professionals have come from South America and the Netherlands to train in the approach, along with individuals from as far afield as Canada, South Africa, Australia and many parts of Europe. Human Givens: a new approach to emotional health and clear thinking has even been translated into Chinese.
Later this year, the first part of the HG diploma training will be delivered in North America. Meanwhile, the numbers of qualified HG therapists continue to grow and several have set up human givens centres. Attendance at the biennial Human Givens Conference is always high and the feedback extremely positive for its focus on practical information and stimulating new ideas.
What makes the human givens so different, however, is that it is not just 'therapy'. It is much bigger than that.
As expressed in the Human Givens Charter, published in 2004, "It is clear that, in all the different ways in which [governments] try to deal with the complex problems of the world, they are missing an essential element: that of the psychology of human nature, which is programmed into us from our genes (hence we call this the human givens)."4
It made the case that, in the light of this new knowledge, there is a duty to help health, educational, economic and social organisations implement concrete plans for creating environments where people can safely go about their lives, with basic physical needs met, in a social climate that allows sufficient autonomy and individual responsibility, emotional connection to families and communities, and where all can find healthy meaning and purpose in life.
Thus the human givens approach established itself as one with relevance in all strata of society, widening out responsibility for wellbeing to include government and corporate bodies, instead of treating mental ill health and misery as the product of individual inadequacy or weak genes.
Wisdom down the ages
The framework of the human givens is what set it apart 20 years ago and still sets it apart today.
While some of the ground-breaking material taught then, such as findings from neuroscience crucial for understanding and working most effectively with human beings, is more widely talked about today, no other therapeutic approach focuses on a fundamental understanding of what makes us human and how that affects our behaviour in all areas of life. Thus it has become influential in fields as diverse as health, social care, parenting, politics, education, work, law, mediation and diplomacy. The Human Givens Foundation, a charity set up when the Human Givens Charter was published, supports a psychological/social regeneration programme that fosters initiatives in all these fields.
What also set the HG approach apart was the fact that it "draws its power from observation, research, experience, the biological and psychological sciences and our heritage of wisdom gathered down the ages".2 This in turn has led to important insights that have had a major impact upon therapeutic work. Joe Griffin had already developed his expectation fulfilment theory of dreaming – his research showing that dreaming is our means of discharging unexpressed emotional arousal from the previous day5 – and this led to the formulation of the cycle of depression, which dramatically enhanced understanding of why depression occurs, becomes entrenched and how to break the cycle.
A key understanding was the role of metaphor and story in guiding people to take a broader perspective and recognise more empowering narratives to enable them to live in more fulfilling ways. Early on, Griffin and Tyrrell also identified hypnosis as an artificial induction of the REM state, equivalent to the REM dream state, in which powerful unconscious learning can take place, and described a psychobiological explanation for their findings.6 This led in turn to new thinking on the nature of psychosis, which has resonated with many sufferers.7
Also ground breaking was the recognition that the brain works through pattern matching and that emotion precedes thought, expressed in the APET™ model (activating agent leading to a pattern match, leading to an emotion and, sometimes, to certain thoughts). This enabled a range of therapeutic interventions to be considered, according to individual circumstances. New insights into the patterns of trauma have led to refinements in best treatment, and the expectation fulfilment theory of addiction8 has become the standard intervention for HG therapists working with addiction.
Other key contributions include 'molar memory' theory, to explain and redress irrational and compulsive behaviours such as sexual fetishes and anorexia and bulimia;9 new thinking on the possible causes of autism;1 an explanation for why nominalisations have such a powerful positive or negative influence on the brain (abstract nouns empty of content, such as 'depression' or 'change', send listeners or readers off on a pattern match of their own to find meaning);1 and the introduction of caetextia (context blindness) as a term to explain behaviours as diverse as those seen on the autistic spectrum and those characterised by loose associative and over-imaginative thinking, more closely linked to psychosis.11 Even the nature of consciousness itself has been explored in depth, in a highly thought-provoking book.12
Over the years, the ideas that have been taught have found their way into not just health care and social services but into all manner of places, including the police force, fire service, prisons, the military, airlines and the judiciary. So many people have done so much along the way, in taking the teaching forward and promoting key ideas (too numerous to name, they know who they are). Some initiatives have had especially far-reaching impact...  Read the full article in the Journal >>
---
This article first appeared in "Human Givens Journal" Volume 24 - No. 1: 2017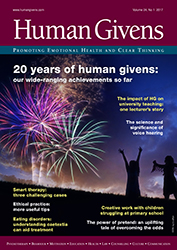 We need your help – this article originally appeared in the Human Givens Journal which takes no advertising at all, in order to maintain its editorial independence. 
To survive it needs new readers and subscribers – if you have found the articles, case histories and interviews on this website helpful, and would like to support the human givens approach – please take out a subscription or buy a back issue today.
References:
Tyrrell, I (2016). Listening to Idries Shah: a memoir. HG Publishing, East Sussex.
Griffin, J and Tyrrell, I (1998). The 'human givens'. The Therapist, 5, 1, 24–9.
Griffin, J and Tyrrell, I (2003). Human Givens: a new approach to emotional health and clear thinking. HG Publishing.

See http://humangivenscharter.com

Griffin, J and Tyrrell, I (2014) Why We Dream: the definitive answer. (Originally published in 2004 as Dreaming Reality: how dreaming keeps us sane or can drive us mad.) HG Publishing.
Griffin, J and Tyrrell, I (1998). Hypnosis and Trance States: a new psycho-biological explanation. European Therapy Studies Institute, East Sussex.
Griffin, J and Tyrrell, I (2001). Trapped in the land of illusion. Human Givens, 8, 3, 2–3.
Griffin, J (2004). Great expectations. Human Givens, 11, 1, 12–19.
Griffin, J (2006). Molar memories: how an ancient survival mechanism can ruin lives. Human Givens, 13, 3, 9–18.
Griffin, J (1999). Autism: a sea change. New Therapist, 6, 4, 10–16.
Griffin, J and Tyrrell, I (2008). Parallel processing. Human Givens, 15, 4, 11–17; (2009). ASD and psychosis: is caetextia the link? Human Givens, 16, 3, 19–23.
Griffin, J and Tyrrell, I (2011). Godhead: the brain's big bang. HG Publishing.
Hoggan, L and Kane, C (2014). "Just what we need": the update. Human Givens, 21, 2, 17–23.
How schools are using the human givens approach. Human Givens, 2010, 17, 3, 28–33.
Griffin, J (2010). Breathing life into organisations. Human Givens, 17, 3, 11–16.
Dale, C (2016). How to get apples, not cactuses: an organisation fit for purpose. Human Givens, 23, 1, 15–20.
Brunt, C and Gauntlett, B (2009). Expecting the best: midwifery and the human givens. Human Givens, 16, 1, 31–5.

See http://birth traumaresolution.com/practitioner-training-course/birth-trauma-resolution-curriculum/