Sue Beckers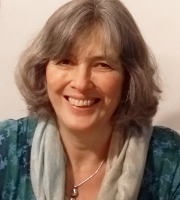 Email Me
Contact Details
Telephone Number
01308 459996
Mobile Number
07788319181
About Me
I have worked as a GP in the NHS for 29 years. In that time I have witnessed increasing problems of anxiety and stress. I have also seen more health and wellbeing concerns, digestive complaints and weight management issues as people have become more and more disconnected from real food. In order to understand this more fully I completed a Masters Degree in Nutritional Medicine, a Postgraduate Diploma in Allergy, a practitioner qualification in Human Givens and a coaching qualification in the Psychology of Eating.
I believe our health, mental wellbeing, the food we eat and our enjoyment of the outside world are all intimately connected. I want to be able to  help people  to address any or all of these in order to move forwards into the life and health they dearly wish for themselves.
I am happy to take NHS referrals and have DBS disclosure.
Qualifications
MB BS University College Medical School and UCH 1983, MSc Nutritional Medicine University of Surrey 2008, PG Diploma Allergy University Southampton 2013, Practitioner Member of The Human Givens Institute 2017, Coaching certificate from The Institute of Psychology of Eating 2017.
Professional Memberships
MRCGP : Membership of the Royal College of General Practitioners,
ASO: Association for the Study of Obesity,
MHGI : Membership of the Human Givens Institute.
Further information
I can help with problems of anxiety, depression, stress and painful, traumatic memories. I can also help with concerns over fatigue, digestion, diabetes risk and healthy weight management using new nutritional insights together with Human Givens Therapy and coaching around our relationship with food.